Detox Facial Skin With Carbonated Mineral Water In Korean Style
How To Detox Facial Skin With Carbonated Mineral Water In Korean Style
Korea has always been famous for its advanced cosmetic industry. Not only that, the trend of beauty in the world also often comes from this land of Kim Chi. And one of them is the facial detox movement with carbonated mineral water.
It may sound strange to many people, but this method has many positive changes to the skin. In particular, dermatologists also appreciate this skin care method because it is safe, convenient and economical. So using mineral water with gas detox facial like? Do not skip the following article of Miss Tram - Natural Beauty Center Please.
1. How does mineral water with gas use beauty?
Sparkling water is one of the popular beverage products in Korea. They are sold at many supermarkets, grocery stores, restaurants ... so many girls of Kim Chi choose and take advantage of beauty.
In the composition of carbonated mineral water containing mineral water, CO2 and many minerals like zinc, calcium, ... - they are all very good for the skin. Drinking carbonated mineral water not only provides water, nutrients and toxins effectively, but also supports the process of rapid weight loss.
Especially, when applied to the skin, this water also helps deep clean and tighten pores as well as improve acne condition very effectively. So this is probably a great beauty material that you need to pocket.
Consideration when choosing sparkling mineral water: Type of mineral water adding CO2 in, also known as sparkling water or sparkling water / carbonated water. Absolutely no sugar and flavorings.
2. Soak your face with carbonated mineral water
According to studies, soaking your face with carbonated mineral water can effectively treat acne. Because when used, tiny air bubbles will penetrate deep into the pores, helping to clean the dirt, remove sebum accumulated under the skin. As a result, pores will be more open, the skin is also effectively moisturized and smooth, full of vitality.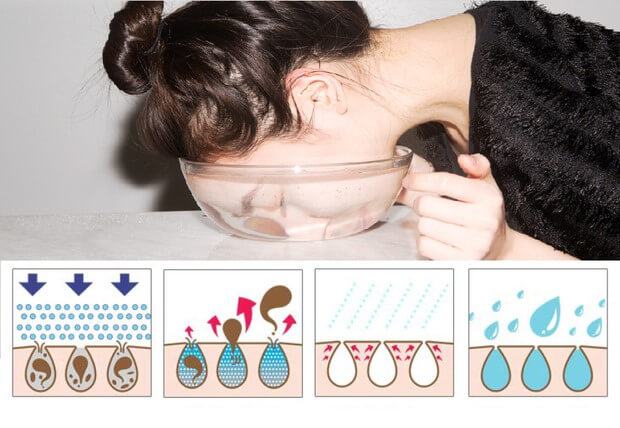 Doing:
Step 1: Mix carbonated mineral water with filtered water in a ratio of 1: 1 in a large bowl (for the first time you do, you can add more filtered water to skin slowly adapt).
Step 2: Close your face and soak in water for about 10 seconds.
Step 3: Pat the mixture a few times on the skin and pat dry.
This beauty formula is suitable for almost all skin types. However, do this method once a week in the evening so that your skin can get used to the CO2 bubbles, then lift gradually to 2-3 / week as the skin adapts. And note, please remove makeup and wash your face thoroughly before performing this secret of beauty.
3. Recipe detox with carbonated mineral water and fresh fruit
Wash your face with carbonated mineral water and lemon
The most common way to drink carbonated mineral water is Vietnamese combined with fresh lemon. The formula of mineral water with gas + fresh lemon is also used by Korean women to wash their face, especially those with oily skin. Because fresh lemon has the cleaning effect, needs excess oil and reduces dark, very good acne treatment.
Doing:
Step 1: Mix 100ml mineral water with gas and filtered water in a ratio of 1: 1 and add 2 drops of lemon juice.
Step 2: Apply mixture to face and massage gently for 3-5 minutes.
Step 3: Rinse with water.
With this method, you should only do 1-2 times / week because lemons have skin protection properties, use too often will thin the skin and irritate the effects from outside.
Detox facial skin from the inside with carbonated mineral water and fruit
In addition to fresh lemon, you can also combine carbonated drinks with many other fruits such as strawberries, apples, oranges, ... to drink daily. The regular use of drinking water formula from carbonated mineral water helps detox body and skin very effectively from the inside. Therefore, for those girls who have acne or want to lose weight, this is a method that needs pocket.
The way to prepare this type of drink is also very simple, just choose the fruit you like, slice or squeeze to get water. Then put in carbonated juice to drink daily.
With these formulas, you should drink only 500ml per day. It is best to drink in between meals (at least one hour before or after meals) so as not to affect the stomach.
The trend of detoxifying facial skin with carbonated mineral water is quite simple, cost effective, but it brings great effects to the skin if you do it properly. Evidence is that many Vietnamese women believe in performing and bringing about positive improvements in the skin. Therefore, try this beauty method to have a healthier, whiter skin.
Hope the share of Miss Tram - Natural Beauty Center Useful for you. Wish you always have a smooth, freshest skin!
Miss Tram Natural Beauty Center - Beauty but natural.
Miss Tram - Natural Beauty Center
Hotline: 1900 7018
Mobile: 0909.783.289 - 093.718.6060
See More About News - Beauty Secrets Miss Tram - Natural Beauty Center:
Beauty From Head To Foot With Avocado
Learn How To Skin Whitening From Japanese Women
What to Eat On Tet Holiday, No Weight Gain, No Worrying About Pimples