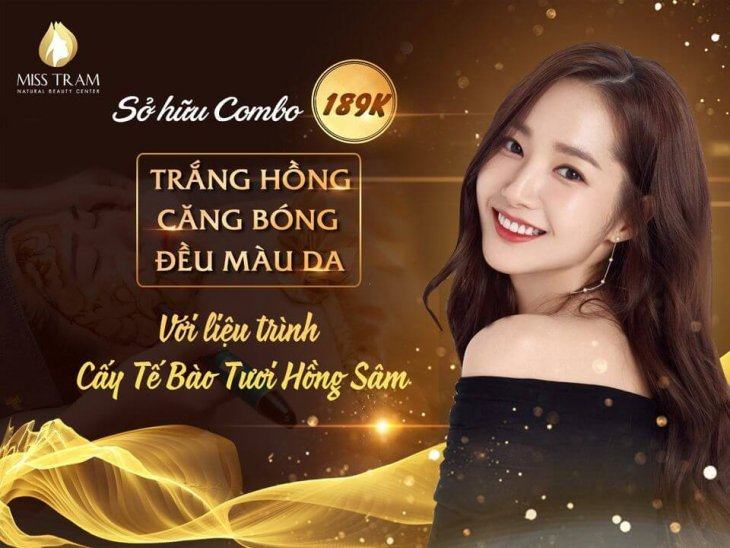 "WHITE CLOUD - BEAUTIFUL - DAIRY DAIRY"
Combo: "WHITE WATCHES - BEAUTIFUL - DAILY DAIRY WATCH" With FRESH CLINIC THERAPY TREATMENT
Only 189K - RESOLUTION OF DEEP SKIN - HAZARDOUS - CLICK... so easy, if you don't try it, it's just SURPRISE!
Red ginseng is a valuable medicine to help prevent aging, smooth, smooth, bright white, youthful skin ... makes women extremely MIRROR.
The process of transplanting fresh cells HONG SAM will never let you down with dozens ADVANTAGES oh my god:
Restores damaged skin, increases elasticity to help skin rejuvenate and prolongs youth

Skin is revived, including sensitive areas: forehead, corner of eyes, nasal passages ...

Prevent the aging process; Evenly pigmentation, skin becomes rosy, bright white and smooth.

Reduce the process of wrinkle formation, skin surface stretch.

Cleanses and minimizes pores.

The treatment is suitable for all skin types, not painful, does not take much resting time.
Sign up now, wait for more ladies ...
Many girls who heard "transplanted" feel scared, but in fact, they are not invasive, causing any pain, they still feel "already", everyone!
Time application: from August 1, 2020 - August 31, 2020
Do not hesitate to #Comment / Inbox or call HOTLINE 1900 7018 For advice on any questions you may have about the service.
Miss Tram Natural Beauty Center - Beauty but natural.
Miss Tram - Natural Beauty Center
Hotline: 1900 7018
Mobile: 0909.783.289 - 093.718.6060
Subscribe more Events - Deals else to quickly book yourself a special promotion at Miss Tram. Don't forget to check out the other great posts in the forum Blog Sharing and recommend to everyone to know!