The Regimen for Oily Skin with Acne Correct
The Regimen for Oily Skin with Acne Correct
Oily skin acne is extremely "uncomfortable" skin, it makes "miserable" become less confident. Not only that, this type of skin is very difficult to treat, as long as you neglect to take care of it, the condition of acne on the skin will become very serious.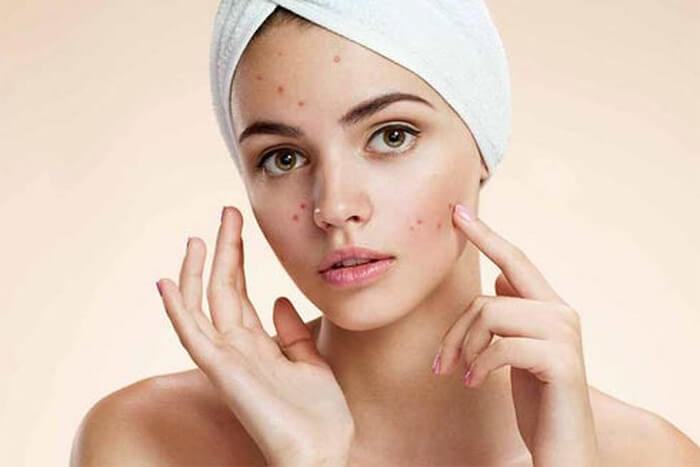 Miss Tram - Natural Beauty Center suggests a perfect oily skin care routine, helps you easily "live" with them as well as solve them thoroughly, quickly owning a healthy and smooth skin.
1. Wash your face properly
Actually washing your face is not as simple as we think, especially with oily acne skin, the more you need to wash your face clean.
First, wash your hands thoroughly with antibacterial soap so the bacteria on your hands will not affect your face. You can use warm water to wash your face to make the pores expand, making it easier to clean the dirt.

You put an appropriate amount of cleanser on the palm of your hand, gently foam and massage evenly over the face, especially the oily areas such as nose, cheeks, forehead.

Finally, wash your face thoroughly with cool water and dry with a soft towel.
You should also remember that wash your face only 2-3 times a day, when washing do not rub vigorously to avoid damaging the skin. Do not use hot water, massage too vigorously as well as using cleansing cleansers with high detergency.
2. Narrow "standard" pores
Too much oil on the skin will make the pores enlarge, which not only makes our face ugly but also accumulates dirt and acne easily. Therefore, narrowing pores is essential.
To narrow your pores, keep the following in mind:
The first is the removal of dead skin cells, helping the skin to open and clean the skin from deep within. You should exfoliate 1-2 times per week with exfoliating scrubs that are suitable for your skin.

Acne skin, you should limit makeup, if you need makeup, you should chew cosmetics with alkaline oil.

Carefully remove makeup daily to remove all makeup and dirt on the skin.

Use rose water or ice packs to tighten pores effectively.
3. Regular skin care
Just a little neglect is oily skin acne will betray, so need to practice your skin care routine every day.
Many of us have the habit of squeezing pimples and touching our face, but this is not good because it will cause infections of the face and acne condition.
After washing your face, use rose water and moisturizers for your skin. For acne-prone skin you should choose oil-free products: on these products must be labeled "oil-free", "non-acne" (nonacnegenic), "non-human acne (noncomedogenic), "won't clog pores" (won't clog pores)
In addition, immediately remove bad habits such as touching your face, squeezing acne or applying too much makeup, which will make your skin "suffocate".
4. Proper sun protection
The sun not only darkens the skin but also has many negative effects on the skin such as melasma, freckles, wrinkles, and skin aging. Therefore, you should regularly use sunscreen as well as carefully shield your skin when on the road.
Even in cool weather, UV rays are harmful to the skin, so you need to apply sunscreen regularly to protect your skin effectively.
5. Skin care from within
In addition to controlling the amount of oily from the outside, you should also focus on skin care from the inside by paying attention to the following issues:
Limit hot, spicy, greasy, sugary foods

Stay away from coffee, cigarettes, alcohol or other stimulants

Drink at least 2 liters of water a day

Eat lots of green vegetables and fruits

Get enough sleep, don't stay up late

Avoid stress, keep the spirit always comfortable

Do not let the body too tired
If you follow the above measures, it is sure that the condition of acne on the skin will be significantly improved. However, this skin care process requires you to persevere and perform regularly in the long run.
If you want to "burn the stage", quickly overcome the greasy condition of acne, you can go to prestigious spas such as Miss Tram - Natural Beauty Center to be consulted on the appropriate beauty routines, using modern machines to intervene deeply into the skin, improve skin problems effectively.
Miss Tram is considered as one of the few beauty facilities that possess many advantages such as: advanced beauty technology, state-of-the-art equipment as well as talented and talented KTV staff. It offers many modern beauty services, bringing beauty and confidence to millions of customers. If you have a headache due to oily acne, you should contact Miss Tram immediately to get advice from leading experts in the field of skin care.
Miss Tram Natural Beauty Center - Beauty but natural.
Miss Tram - Natural Beauty Center
Hotline: 1900 7018
Mobile: 0909.783.289 - 093.718.6060
See More About News - Beauty Secrets Miss Tram - Natural Beauty Center:
The Secret Of Using Rose Water Properly
Summary of Effective Skin Purification Method