Talk about story MAKE UP of women and brothers today: Beauty first is for themselves, so every morning in front of the mirror is to feel happier. There is nothing wrong with it or evil. When one is happy, it is always possible to do many meaningful things for loved ones, people around them, and inspire others.
Although the outside beauty is not decided upon birth, we can completely change our appearance thanks to modern aesthetic technologies. The problem is we have to find a reliable address, where we really understand what you are in. Where is the real advice you need? And where there is real tension for you PRETTY real NATURE.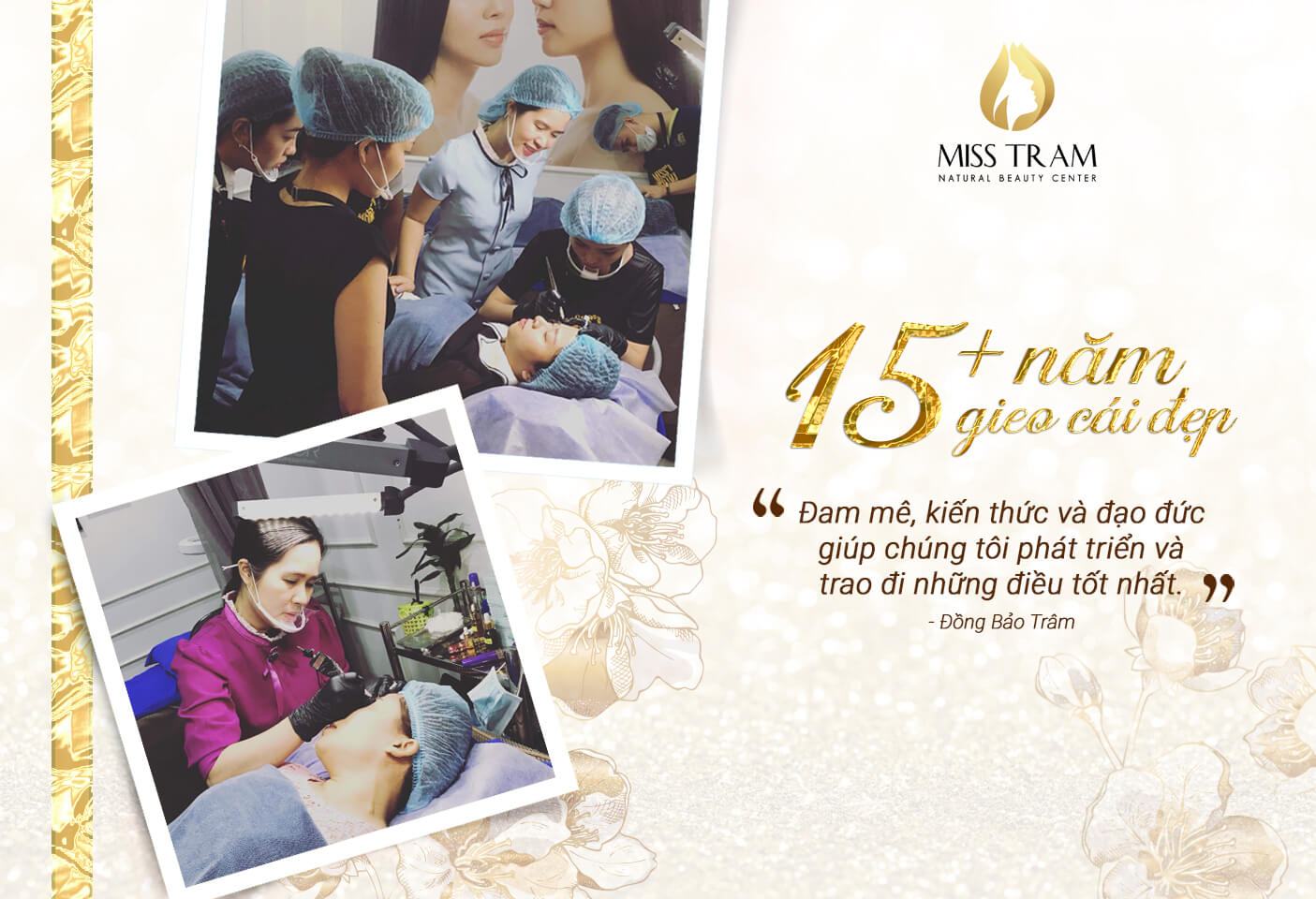 * Dong Bao Tram - Miss Tram- Natural Beauty Center *
MISS TRAM - NATURAL BEAUTY CENTER: BEAUTIFUL BUT MUST BE NATURAL
Over the past 15 years, Miss Tram - Natural Beauty Center Always uphold the motto of operation is to bring natural beauty, harmony and absolute satisfaction to its customers. To do that Miss Tram Beauty Center has invested spacious facilities, equipment and machinery that meet the strict standards of the Ministry of Health. Not only that, Miss Tram also brings together a team of cosmetologists who are formally trained, regularly train in advanced countries such as Korea, Japan, USA, Germany, ... and a team of professional care staff, devoted and knowledgeable knowledge.
Miss Tram Beauty applies advanced cosmetic technology from the United States, constantly updating modern trends, meeting the beauty needs of everyone. Before receiving the technology transfer beauty, beauty process, we all spend time studying seriously and thoroughly from a scientific perspective. Each technology put into application is based on compliance with Asian beauty standards in general, as well as Vietnamese people in particular.
In the face of any customer request, Miss Tram's experts sit back, assess the current situation to make the best plan for customers. It is the professional, dedicated working attitude of each member and the really quality service that helped Miss Tram successfully build the brand. The most prestigious cosmetic center in Ho Chi Minh City, becoming a reliable destination, thousands of customers "choose to send gold".
FEATURED SERVICES AT MISS TRAM
The beauty services, beauty care at Miss Tram Very diverse, committed to efficiency and absolute safety.
I / Skin treatment service
Miss Tram constantly researches and optimizes skin treatments to help us get rid of common problems such as acne, scars, pitting, freckles, age spots, wrinkled, dry skin, etc.  
Dermatological experts will directly discuss and advise on acne status as well as current issues on customers' skin, thereby offering treatment solutions. Savings - Timely - Safe and Effective.
Miss Tram is committed to thoroughly treating the 9 most common types of acne and acne scars, including: Bran Acne, Blackhead, Whiteheads, Sebaceous Fibers, Pimples Hidden Under The Skin, Acne / Acne Acne, Headless Acne, Eel Acne, Endocrine Acne. The procedures have different methods and procedures depending on the acne situation of each person.
Possessing micro-point shock technology combined with esoteric oriental medicine, Miss Tram has helped 3,789 young people (both men and women) get rid of acne and regain their smooth, smooth skin. All customers come Miss Tram are satisfied at the first time to experience this unique acne treatment.
Also, tattoo removal service Yag Laser technology (Germany) modern at Miss Tram Completely painless, no scarring, absolute safety commitment. With this technology, you no longer have to worry about removing old tattoos from any part of your body.
II / High-tech aesthetics
Miss Tram was one of the first centers Apply HiFu S + technology, ... to lift and rejuvenate the skin very successfully.
Go HiFu S + This is a beauty technology that does not require surgical intervention, does not touch cutlery, so it is absolutely safe for everyone and all sexes. At first use HiFu S + technology To rejuvenate the skin, you will notice other changes on your face, namely: wrinkles (corners of the eyes, the corners of the mouth) fade, the skin is smooth and youthful.
III / Beauty lips beautiful, natural
If you are in need of changing so that your eyebrows become beautiful and in harmony with your face; If you want to own beautiful lips, full of vitality or an attractive eyes, the cosmetic embroidery service at Miss Tram will help you get the beauty you expect.
Experts will sit down with you, conscientious advice to choose the right technology, ensuring to give you a true appearance Nice - Harmonious and Safe.
Eyebrow embroidery aesthetic
Miss Tram Application of modern embroidery and sculpting technologies, not only helps you own beautiful eyebrows aesthetically but also good for anthropology. A number of prominent technologies make aesthetic eyebrow stand out at Miss Tram - Natural Beauty Center The current:
Cosmetic embroidery lips
Constantly learning, constantly updating beauty technology, Miss Tram has participated in studying with many leading experts in the world as well as transferring the latest technology of lip cosmetology to help overcome, improve irregular blemishes, dark lips, pale lips, non-pigmented lips Evenly, ... regain fresh and natural lips for customers. The most cosmetic lip technology is at Miss Tram - Natural Beauty Center The current:
+ Spray lips Korean technology crystal
+ Phun môi Collagen Tế bào gốc
+ Spray the lips of the queen
+ Sculpting micro lips
Cosmetic spray advantages mHey, lip in Miss Tram:
+ Fast execution time (30-40 minutes depending on method)
+ Standard color, smooth and natural
+ No pain, no swelling, no downtime
+ Long-term warranty
Spray embroidery aesthetic Eye
Technology of natural eyelid spray and micro touch from Korea will help the girls own big, round eyes, attracting in all angles. With the technique of inkjet embroidery with specialized pens, the technicians Miss Tram will use the tiny needle at the head to put ink into the epidermal skin, creating super natural definition for the eyelids. The method completely does not affect eyesight, is not painful or swollen.
IV / Eyelash Extensions
Eyelash extensions technology in Japanese style Miss Tram very pleased with her. With modern technology and the skill of skilled technicians, Miss Tram will magnify glamorous eyes, attractive eyes for women.
3D angel eyelash extensions (round eyes): make the eyes glitter, round evenly, naturally, suitable for all types of eyes.
Eyelashes with charming black roses (Sexy): help sharpen eyes and more personality with longer eye tail than the eye head.
Eyelash extensions at Miss Tram pledged:
+ Do not pin to skin
+ No stinging
+ No discomfort
+ Do not shed real eyelashes
+ No more time consuming for customers.
Especially, lashes imported directly from Korea, 100% silk lashes, meet the quality and absolute safety.
V / Cosmetology vocational training
Not only contributing to honoring Vietnamese beauty, Miss Tram also wants to spread the good things to the community, support young people to firmly stand on the ground, seize attractive career opportunities in the future with professional beauty and aesthetic courses.
Participating in training classes at Miss Tram, students will receive many good opportunities:
+ Extremely preferential tuition
+ Give the whole apparatus and tools throughout the course
+ Grand Master Tram Dong with over 17 years of direct teaching experience
+ Get practical instruction on real people (free hands-on modeling)
+ Exam for vocational certificates issued by the Vietnam National Administration of Vocational Training is valid throughout the country
+ Teaching and curriculum in 3 languages (at the request of students): Vietnamese, English, Chinese
+ There are classes on demand: for students preparing to exit, urgently need to open shops, overseas Vietnamese to return home, study in groups, tutoring, online learning, studying for degrees - certificates, ...
Especially:
+ Miss Tram 100% commitment strong trainees,
+ Opportunity to receive scholarships up to 30 million and high-paying jobs at Miss Tram
Miss Tram regularly opening classes:
+ Scraping Microblading 3D - 9D
+ Ombre 3D eyebrow powder coating (Magic Shading)
+ Sculpture of micro technology points of Europe (Aquarell Technique)
+ Sculpting eyelid micro-touch Magic Eyes
+ Artisan extensions
FORMULATION OF SUCCESS OF MISS TRAM
Right from its inception, Miss Tram has determined its mission is to continuously improve knowledge; learn from experience of many experts and colleagues in the profession; train yourself regularly every day to keep growing and give the best to your customers.
Can speak Beautiful & Natural - BEAUTIFUL BUT MUST BE NATURAL is the success formula of Miss Tram, bringing the brand Miss Tram - Natural Beauty Center to the hearts of many people. Thanks to that, we have been trusted and loved by numerous domestic and foreign customers, conveying our expectations.
6 REASONS TAKE YOU TO MISS TRAM
1. Miss Tram brings together a team of highly specialized cosmetologists, who often practice in advanced countries like USA, Germany, Japan, ...
2. Being the first unit in Vietnam to receive the successful transfer and application of leading skin beauty technologies USA such as skin rejuvenation by Hifu Technology, Treatment of melasma, radical freckles Yellow Laser, Acne eradication with the exclusive Laser Fractional Pulse Laser Fractional Treatment method combined with Traditional medicine secrets ...
3. Well-equipped facilities, state-of-the-art machinery and equipment ensure compliance Ministry of Health standards.
4. Luxury interior, Spa room designed in style USA Brings you the most wonderful relaxation.
5. Counseling wholeheartedly, helping customers choose the beauty process that best suits them.
6. Services profession, level, commitment quality and absolute safety.
When you trust give the opportunity Miss Tram team, we will do our best to help you become more and more beautiful, confidently express yourself and spread endless inspiration to others.
Do not hesitate to contact with Miss Tram To get advice from experts offline!
Miss Tram Natural Beauty Center - Beauty but natural.
Hotline: 1900 7018
Mobile: 0909.783.289 - 093.718.6060
MissTram Beauty Salon Together Connect Business