SHOULD YOU HAVE CHOOSE Permanent Makeup Eyebrows Microblading (MEN & WOMEN)?
Beauty eyebrows: Should choose cosmetic eyebrow cosmetic method is right for you?
* Need To Know Before You Do: The Difference Between Tattooing, Spraying, Embroidery, Sculpting and Microblading!
(Avoid re-doing many times - the money lost the disability)
As you know, beautiful every day is the desire of all of us, one of them is to beautify the eyebrows. Because of the constant technology transfer, many of you feel confusing and disturbing between the methods Eyebrow tattoo - Eyebrow spray - Embroidery or Sculpture.
You are worried with your face, eyebrow shape and real eyebrows, so which method should I follow? Beautiful harmonious, natural, gentle and not old before age or fierce?
Today, the expert at Miss Tram will help you answer all questions in this detailed article.
Now take 5 minutes to save your time and money!
1) Eyebrow Tattoo:
Tattoos are a form of cosmetic needles that put a number of colorants under the skin. You can imagine this is the same method as tattooing on the body. The technician will draw the eyebrow frame first then use a specialized needle to bring the ink through the skin to complete the mold.
♠ Eyebrow tattoo advantages:
+ The eyebrows are bold and in accordance with the prescribed eyebrow frame;
+ High color fastness time, durable time must be 10-20 years;
+ Low tattoo cost
♠

Disadvantages of eyebrow tattoo:
+ Eyebrows are made into 1 thick ink frame, less natural;
+ The color of your tattoo is deep, so you usually have to be slightly older and have a bad face;
+ The process is painful, swollen and takes time to rest because the tattoo needle has a deep impact on the dermis of the skin.
Duration: 100 - 150 minutes.
Implementation cost: From 500,000 VND - 1 million VND (~25-50$) (depending on facilities and materials)
2) Eyebrow Spray:
Eyebrow spray is an improved technology from the traditional eyebrow tattoo above. However, we need to distinguish eyebrow spray only touch lightly on the epidermis, not deep into the dermis like old eyebrow tattoo method. Currently there are many names as well as improved technology from spraying such as Powder spray eyebrow, ombre eyebrow spray, ...
Live Video of Powder Spraying at Miss Tram

Register MissTram Contact Advice Add
♠

Advantages of eyebrow spray method:
+ Small needle, high-speed injector and needle only lightly glide on the skin so it is not swollen or painful;
+ The eyebrows after spraying are softer, softer and more elegant than the old tattoo technology before;
+ Eyebrow spray suitable for girls often make-up by the youthful sharpness, easy to change the color to match suitable for hair color;
+ Color fastness is also suitable, usually ranging from 1 - 5 years depending on ink quality.
Eyebrow spray is suitable for girls who usually wear makeup
♠

Disadvantages of eyebrow spray method:
+ You have to find the right address reputable eyebrow spray and good professionals because it will be easy to confuse with old tattoo technology;
+ Only suitable for you who like sharp, regular makeup;
+ If your eyebrows are not enough, thin, eyebrow spray will have a rough feeling, lack of harmony.
Duration: 45 - 120 minutes.
Cost of implementation: 1,000,000 VND - 3,000,000 VND (~50-150$) (depending on the basis, quality of ink)
3) Eyebrow Embroidery:
Eyebrow embroidery is a traditional method of making eyebrows that has been around for a long time. A form of use with a micro needle tip to put ink into the skin. The technician will put the needle in the shape of the eyebrow to create each stripe line interspersed with your actual eyebrows.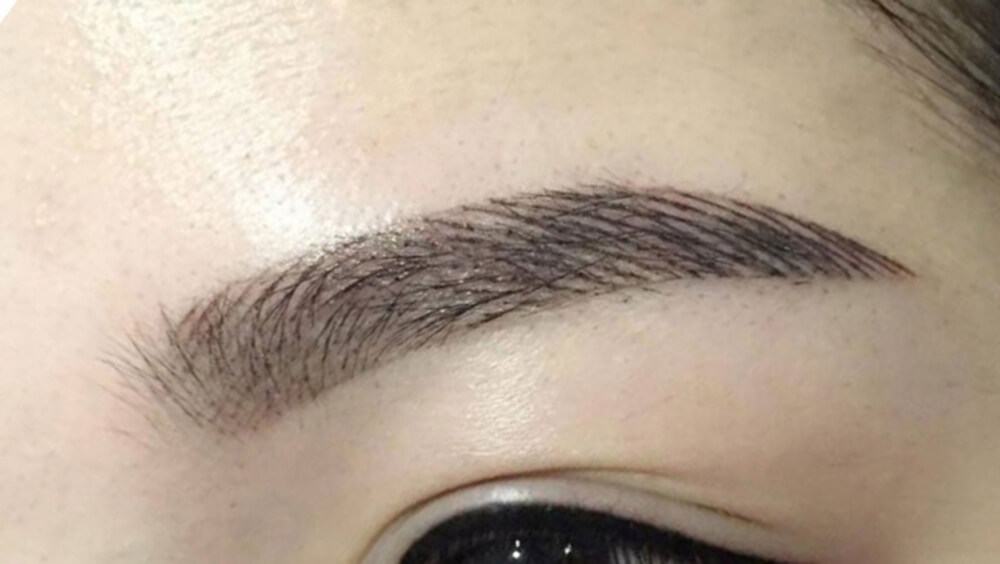 ♠

Advantages when making eyebrow embroidery:
+ Gentle eyebrows, retain the natural eyebrow color;
+ Fulfill your desires with appropriate eyebrows and many strands;
+ Small needle points only gently on the epidermis should not cause burning pain.
♠

Disadvantages of embroidering eyebrows:
+ Embroider yarns still have roughness, often will be different from real eyebrows;
+ Only suitable for eyebrows that have quite a lot of eyebrows or very large eyebrows, when interspersed there will be natural. For those with thin eyebrows, embroidery still leaves a rough feeling on the face;
+ Embroidery needles form stripes in a certain direction, each stripe is long from the head to the end of the eyebrows, without interwoven like natural eyebrows.
Duration: 60 - 120 minutes.
Implementation cost: 1,500,000 VND - 3,500,000 VND (~75-175$) (depending on the basis)
Sign Up MissTram Natural Beauty Eyebrow Advice

4) Sculpting Eyebrows:
Eyebrow sculpture is the most aesthetic method of creating eyebrows today. Accordingly, the specialist will use a specialized engraving knife with a tiny blade to bring ink to the skin, engrave each meticulous thread and naturally interwoven.
Some countries also call this technique Microblading or Embroidery technique is also one though Embroidery means embroidery.
Currently, European technology eyebrow sculpting Phibrows is taking every advantage of nature. This technology is also known as 9D Sculpture or Eyebrow Sculpture as you often hear.
♠

Advantages when choosing eyebrow sculpture:
+ Sculpting the eyebrows will produce each eyebrow in the shape of the actual eyebrow, the file with the color and size of your own natural eyebrow with the head slightly larger, lighter and the middle part is slim, the tail sharp, each sculpted eyebrow is interwoven with the eyebrows so it is difficult to recognize after doing.
+ Using specialized equipment, it is easier to remove and sterilize tools.
+ With this modern eyebrow sculpture technique, the specialist can control the shallow depth - deep on each ink line so it is not invasive, painless swelling, no need to take time to relax.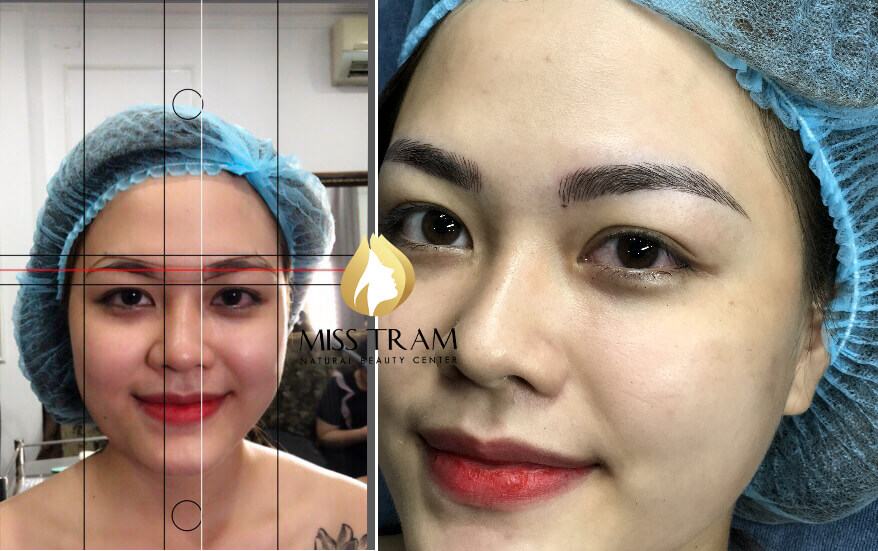 Sculpting natural eyebrows as soon as they are done, no swelling or pain
+ The ink color quality is of natural origin, has passed rigorous testing stages, without iron oxide components. So will not bloom, bloom red over time while maintaining the natural black brown color, does not cause irritation, suitable for all skin types.
+ Is a technology that not only women but men also choose peace of mind by the great natural.
♠

Disadvantages of eyebrow sculpture:
+ You must choose a reputable establishment with a good, experienced Professional to follow the right techniques and create a natural aesthetic look according to the golden ratio of your face;
+ The cost is higher than the other methods, in return you get a perfect, durable eyebrow (depending on the quality of ink) because if done correctly but the ink quality is not high durability, it can only keep about 6 month - 1.5 years.
Duration: 45 - 120 minutes.
Cost of implementation: 3,000,000 VND - 6,000,000 VND (~150-300$) (depending on facility, type and care policy)
RESULTS THAT FOOT CARE After performing at Miss Tram Spa: The eyebrows with a thickness - moderate thin, the fold is carefully trimmed to ensure 4 elements: romantic, luxurious, sexy and full of charm. Extremely suitable eyebrow shape for those who like Western features & capture fashion trends!
Sign Up MissTram Contact Free Consultation
So we have gone through the full advantages and disadvantages of the current eyebrow cosmetic methods. Here are some eyebrow designs you can refer to:
In addition, depending on the frame of each eyebrow, before making an Expert, you will be more consulted as well as posed directly on the face so that you can clearly visualize it, then accept it.
[Frequently Asked Questions When Beautifying Eyebrows]
1. My eyebrows have not been done yet, there is a head but missing the tail, which method should I do?
Hi, with never done eyebrows, you can choose between Powder eyebrow spray or Eyebrow sculpture! Both are natural but depending on your preference, you can decide the following:
If you like a youthful, sharp eyebrow similar to each light makeup, spray powder is appropriate;
If you like to own eyebrows with many natural eyebrows like the real ones, Sculpting eyebrows are great, before doing you will be advised on the appropriate eyebrow shape according to the standard golden ratio, like that and then proceed. Engrave each natural eyebrow in that frame.
In addition, you can combine the eyebrow sculpture + Spray tail will meet the desire both natural and sharp youthful offline!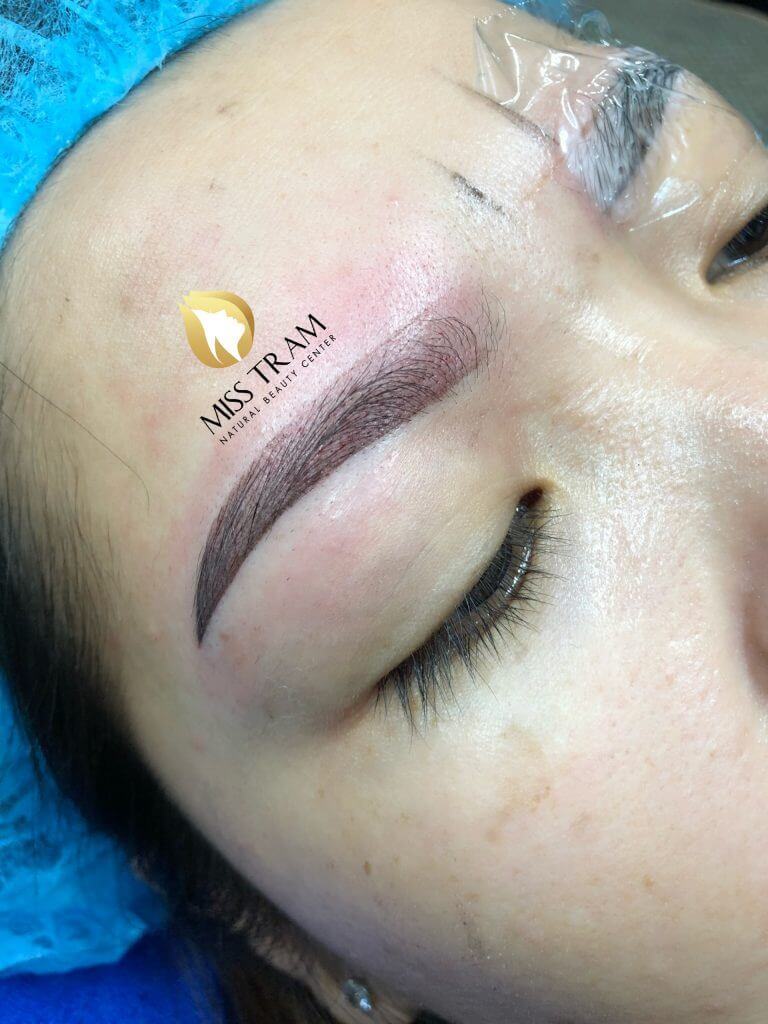 2. Have you ever done eyebrows (tattooing / spraying / embroidery) but now want to sculpt for nature?
Hello, with eyebrows that have been tattooed, sprayed or embroidered, depending on the current condition of the eyebrows, before doing it, you will be consulted in detail by the expert. There are usually 2 options:
If your current old ink color is very pale, almost light background is not much, you can handle ink absorption then sculpted always offline! The cost of handling old color ink ranges from 1,000,000 - 3,000,000 million depending on the basis and method. Execution time only 45 - 60p is done.
For eyebrows that have been made and are still dark, want to sculpt again, you should delete 1-2 times for pale then make sculpting is beautiful again. Because the sculpted eyebrows are very fine, natural and thin, so if the old background color is still dark, the sculpting will not show the fiber, otherwise it will cause the unnatural ink.
3. My mom has hung her eyebrows for more than 2 months, can she make them?
Hello, with Mom's eyebrows after 2 months hanging eyebrows can proceed to normal no problem! For the eyebrows that have been hung, there will usually be scar lines, the specialist will do it more carefully to create a natural, evenly colored eyebrow, you peace of mind!
Sign Up MissTram Contact Free Consultation
4. I heard that powder spraying will quickly fly, isn't it true?
Hello, because the needle only touches on the surface of the skin, so the powder spray is not as high as the old tattoo method. However, the color retention time of powder spraying will depend on the quality of ink in each facility you perform. At Miss Tram will have 3 quality ink for you to choose corresponding to the color fastness time can be up to more than 5 years!
With more than 15 years of experience in the industry, we are sure to guarantee the quality of genuine eyebrow ink. Careful advice before doing so that you understand what is the right solution for you.
5. Sculpting the eyebrows at Miss Tram why the free support period is up to 1 year?
Our difference is in the care like family members.
You need to know that eyebrows are a place that can change over time (fall, grow). For those of you who are careful, even a "non-standard" thread is going to lose sleep. Understand that feeling, so in 1 year time, if anything makes you feel unsatisfied even the smallest as you want to be stronger, add eyebrows or adjust color, you can visit Miss Tram unlimited times. and absolutely no charge!
Beauty Association we are clear from the beginning so good, but each time doing some odd things to charge separately is not!
6. Currently, many advertising agencies 3D - 6D - 8D - 9D do not know how different?
Hello, 3D techniques - 6D - 8D or 9D are all techniques to create eyebrows. However, depending on your actual eyebrow, you will be advised which method is suitable because these 4 techniques have a completely difference in naturalness, color and fiber generation method.
More specifically, 3D sculpture will be similar to the old embroidery technology before, the eyebrows are formed into a hard frame with each unnatural parallel line.
6D sculpting by machine will not have eyebrows frame like 3D but 6D sculpture eyebrows are still quite rough, not soft, the distance between the fibers is thin and there is no natural intertwining.
The 8D sculpture is an advanced method of fiber carving from 6D sculpture, but the Expert will use a specialized engraving knife with a tiny blade to gently carve the ink onto the skin. The result of 8D sculpture is also appreciated by the natural softness, the 8D eyebrows begin to mix but for the eyebrows without, thin or light, 8D is still not a complete choice. perfect.
9D eyebrow sculpture is the most aesthetic method of creating eyebrows today. 9D eyebrow sculpture will produce each eyebrow in the shape of the actual eyebrow, the file with the color and size of your own natural eyebrow with a slightly large, pale head and a thin middle part, a tail. sharp, each sculpted eyebrow is interwoven with the eyebrows so it is difficult to recognize after doing. This method also brings the natural even when your eyebrows are faint, scarred, missing tail, grow blind without shape or even you do not have real eyebrows.
7. Before I made eyebrows at Facility A but now have color patches that can be fixed?
Hello, with eyebrows made and colored, the first thing you should handle the old color so that later Spray or new Sculpture will not be colored.
Currently, the method of deletion or treatment is also more advanced, so you can be assured not to leave scars. You should visit Miss Tram for expert examination and suggestions, absolutely do not go to unreliable facilities will be more damaged, the loss of disability, it is very difficult to repair later!
For old ink that is pale, then you can handle spraying or sculpting. If the ink is dark, you can erase it lightly and then do it again beautifully!
Sign Up MissTram Contact Free Consultation
8. Do you need to abstain from food or rest?
Hello, as above we have mentioned the methods, only tattooing eyebrows to abstain from some foods such as seafood, beef, eggs, sticky rice, spinach, soy sauce, etc. by invasion and damage to the tattoo area.
In addition, the remaining methods such as embroidery or sculpture are only touching the outside of the skin so it will not hurt, no need to abstain from food or relaxation! It is important that you choose the right establishment to avoid any itchy skin caused by improperly disinfected equipment.
9. Why do some places have only a few hundred thousand eyebrows?
Well this is a question that Miss Tram has received quite a lot during the past. As we all know, the above methods have different prices. In addition, in each method, depending on ink quality, professional quality, the cost of implementation will not be the same.
Be a smart customer to choose the right reputable establishment because they have the saying: "whatever you pay for", once done is difficult, the first time you will make eyebrows will be easier, faster and pretty, and if you do not have to fix it over and over again takes more time & cost a lot. "
Naturally beautiful eyebrows bring confidence to be beautiful
10. Hello Miss Tram, my eyebrows have been done for over 3 years, currently not too dark. I like spraying powder, but I don't want to get square eyebrows because I look evil, hope the Center will give me advice on how to look beautiful!
Hello, with the case of the eyebrows made and sprayed with powder again, it is quite simple because the Expert will conduct the old ink color treatment and then ink the new ink. However, as I have also learned through, spraying eyebrows from head to tail is usually not natural at the beginning of the eyebrow.
Currently Miss Tram has applied Mieu eyebrow Technology powdered Queen powder can meet her desires, so she can be completely assured to own new and natural eyebrows, not squared at the top, both sharp and youthful with fine quality powdered toner. Please send your picture to see more about this technology!
11. Hello center, I'm a man, actually I do not care much about "front" of me but because of some issues related to feng shui so I learn to make eyebrows. The problem I care about most is the natural, I do not want business partners, customers or the opposite person to realize that my eyebrows are aesthetically pleasing because I'm frankly, I'm "straight male".
Miss Tram greeted you, with more than 15 years of working with the profession, we have met, understood the desire and helped more than 1578 men who are more confident when owning beautiful natural eyebrows just like real eyebrows. .
Accordingly, depending on the needs of customers that experts in male eyebrows at the Center will discuss, listen and advise in detail the appropriate method.
6 Gold Criteria Assessing Beautiful Male Eyebrows
1. / The line of the eyebrows is bold, uniform, straight, not messy, not sharply curved, nor truncated.
2. / The shape of a beautiful male eyebrow must be suitable and in harmony with the face.
3. / Eyebrow color, skin color and hair color match each other.
4. / The body shape is masculine but the head of the eyebrows is not wide, hard, the part between the eyebrows and the tail is uniform.
5. / The distance between the eyebrow part of both sides must not be larger than the width of the nose foot.
6. / The end of the eyebrow must be on the same line as the tail. Has a moderate length, no dispersion, no mess, equal width and a suitable curvature.
Most Important: Men 's eyebrows absolutely do not see the eyebrows frame, only cushion the eyebrows you are missing and in some cases need to engrave to create "thin eyebrows" around the eyebrows to create a natural look. In addition, the distance between the sculpted eyebrows must be empty of the skin, not greasy or forming an ink board.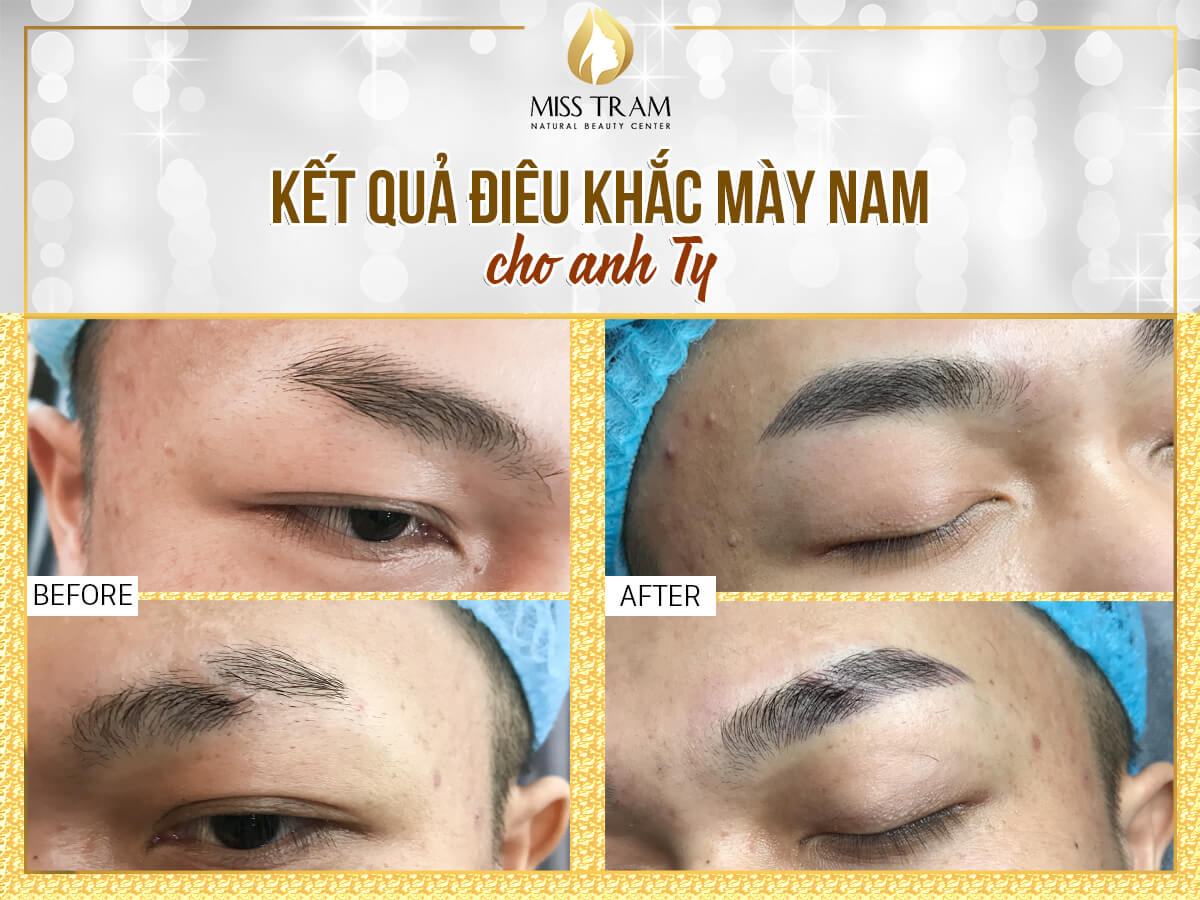 12. Let me ask if black skin should make eyebrows, after finishing, can eyebrows be raised?
Hello E, black skin does not affect the floating results of the 9D E fiber sculpture technology! Before becoming an Expert, he will help E shape the eyebrows with the golden ratio of facial expressions, thereby conducting meticulously sculpting each eyebrow intertwined with E's real eyebrows, as natural as the real eyebrows. I'm worried that the dark skin affects the color of the eyebrows, but I noticed that in fact, there are many celebrities who own dark brown skin and still have sharp, youthful eyebrows, E assured!
13. Let me ask if I heard that making eyebrows will shave off real eyebrows and then spray or sculpt up is it true, if I shave my eyebrows then I probably do not dare to do it because "it's too much" and not beautiful anymore , you just keep looking at your "shadow"?
Hello E, E's question is an interesting question and many of you have the same question as E. With this question, the Center will answer E as follows: "With the motto to help customers get a pair. Gentle, natural eyebrows at Miss Tram in particular, take advantage of customers' real eyebrows as the first priority choice E! Thereby, before working as an Expert, you will adjust the appropriate eyebrow shape according to the golden ratio of your own face, after that, you will trim the hair around, then E don't worry about shaving your hair. My eyebrows, thanks to keeping my real eyebrows, so after I make E, I will own natural eyebrows just like my real eyebrows! I'm relieved. "
With over 17 years of establishment and development, Miss Tram is proud to be one of the leading pioneering brands in the field of beauty.
Miss Tram Message: "If beautifying you, you will introduce friends and relatives to Miss Tram and Word of mouth is the most prestigious advertising method"
The team of Experts and experts at Miss Tram always update the modern technology, hone professional skills with precise, meticulous embroidery technique to help women be more confident and successful in the competition. living.
Miss Tram was honored to be voted a prestigious brand, preferred in 2015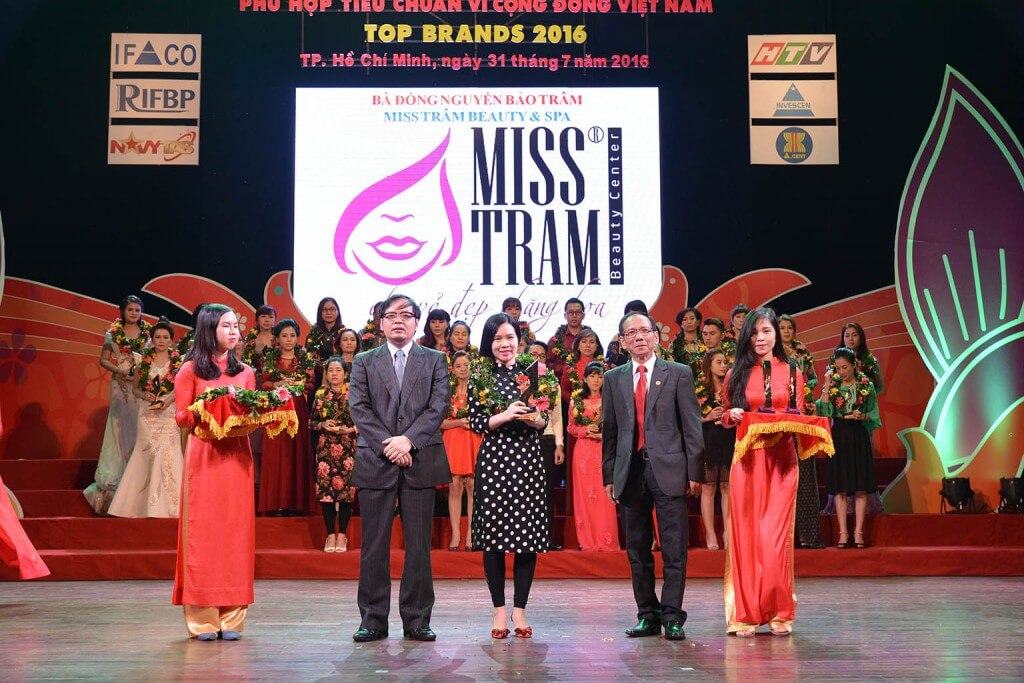 Miss Tram was honored to receive the Golden Hand Cup awarded by the state in 2016
Director Miss Tram Spa meets with Vice President Dang Thi Ngoc Thinh
THE DIFFERENCE IS ONLY AVAILABLE AT MISS TRAM
+ Miss Tram listen desire and advice eyebrow shape suitable for your own facial features, not following the trend;
+ Quality toner available Made clear from Korea, Germany, Japan, USA - Durable ink 3-5 years, No oxidation of color;
+ We are confident as Professionals RICH EXPERIENCE, spread all his heart to the profession;
+ The procedure does not cause skin damage, does not require abstinence and does not take much time to relax;
+ Support policy MONOPOLY 1 year - Accordingly, after doing if you want to adjust the color or shape you like within 1 year will be supported 100% Free unlimited times;
+ Customer care regime Conscientious - Miss Tram always accompanies you from work, reminds to check until you are Absolutely Satisfied!
Beautiful eyebrows help you confidently shine naturally!
Miss Tram Beauty Center - For sublimated beauty
Hotline: 1900 7018
Mobile: 0909 783 289 - 093 718 6060
Address 1: 30 Dang Thi Nhu, Nguyen Thai Binh Ward, District 1, Ho Chi Minh City
Address 2: 126/6 Phan Xich Long, Ward 3, Binh Thanh District, Ho Chi Minh City.
Working time: 9:00 am - 6:00 pm (All days of the week)
Message Miss Tram Call Back More Advice About Beauty Eyebrows (for Men & Women) - Follow Feng Shui Facial