Miss Tram Spa Beauty Center Comes To

Course: Transmission, Tattooing, Embroidery, Aesthetic Sculpture
Study time express: 3 days
Number of students accepted: 5 - 10 students
Organization only 1 single class per month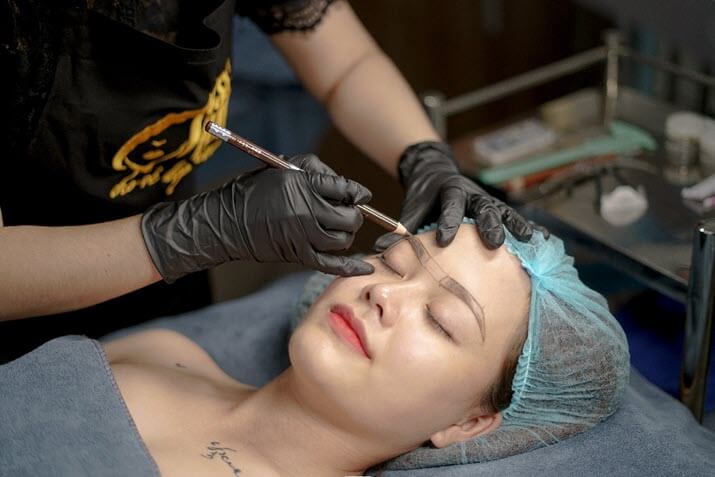 Extremely preferential tuition fees for 3 students register as Fastest
√ By Grand Master Tram Dong with over 17 years of experience with supervising each student and sharing experiences, secrets for job transfer
√ Get practical training on real people (free hands-on modeling)
√ Guaranteed PROFICIENT PROFESSIONAL HANDS after the course
√ Preparing and arranging suitable accommodation for remote students when coming to study at Miss Tram Academy
√ Associate & support certification with the Legal Training Center at United States, Australia
√ The right to graduate exam PRELIMINARY CERTIFICATES OF GOVERNMENT VOCATIONAL TRAINING and make sure 100% is usable for ASSURANCE Business Registration legal with business content: COSMETIC SPRAY SPRING SERVICES.
√ Be right Graduation exam CERTIFICATE OF HEALTH Hygiene and safety - prevention of blood-borne infections - biological fluids.
√ Get the right to graduate graduation exam TEACHER CERTIFICATION to become TEACHER Senior lecturer at Miss Tram.
√ Graduation received CERTIFICATE complete vocational training course PROFESSIONAL Aesthetic Spray
√ Vietnam Qualifications issued by Vietnam National Administration of Vocational Training grant is valid nationwide
√ There are Class on demand: intended for students preparing to leave, need to open a shop urgently, overseas Vietnamese returning home, study in groups, tutoring, online learning, studying for degrees - certificates, ...
√ There are classes for people who have studied at other centers but have not yet done so
√ Textbooks in 3 languages (at the request of students): Vietnamese, English, Chinese
√ Trained skills CRISIS RESOLUTION with customers.
To be instructed to provide professional cosmetic equipment, tools, machines with good quality, best price after graduation.
√ Donate complete apparatus and tools throughout the course - no need to purchase additional unnecessary equipment.
√ Donate PROFESSIONAL NATURAL MI CONNECTOR CLASS (worth VND 8 million) for the first 3 registered students.
√ Donate 1 in 2 kchemistry (1) Spraying the micro-point pink breast, repairing the nipples damaged by tattooing or the new scar surgery on the breast, natural pink or locked (2) Remove tattoo by liquid or high-tech laser standard Europe worth 10,000,000 VND
√ SPECIAL: After the interview, Enthusiastic students will receive scholarships up to 10 - 30 million and work officially at Miss Tram Cosmetic Center.
MissTram Message Contact Us For More Advice
Opening Intensive Courses:
1. Scraping Microblading 3D - 9D
√ Attached from basic to advanced technology, Scrap Sculpture from 3D to 9D
√ Use the golden ratio ruler for European eyebrows
√ Handling blue and red eyebrows into eyebrows New European sculpture
√ The secret to repairing eyebrows that have been done through damaged, colored, broken or broken sculptures, damaged eyebrows into eyebrows Sculptures are naturally beautiful without losing time to fix them.
√ The secret to putting the ink into the skin properly so that after the eyebrow Sculpting does not lose fibers, the thread is beautiful and even.
√ How to fix the shape, the old embroidery eyebrow thread into a new sculpture
√ How to prepare eyebrows for eyebrows after surgery or hanging scars
√ Share techniques using eyebrows, how to make ink in each case to get new eyebrows with the sharpest soft eyebrows.
√ Skill MONOPOLY the most advanced of AMERICA Combine from Microblading & Sandy touch beads by hand - Transform old spray eyebrows into eyebrows New sculpture Naturally soft like real eyebrows without removing or handling / sucking old ink.
√ How to care for the perfect eyebrow after Sculpting for each skin type to stay beautiful and durable
√ Sharing Tips to help keep your eyebrows Color fastness> 3 years
√ Manuscript of common mistakes in Sculpture
√ ESPECIALLY Embroidery techniques - Sculpting bald hair
2. Ombre 3D eyebrow powder coating (Magic Shading)
√ Tutorial from basic to advanced Ombre 3D eyebrow powder coating technology (Magic Shading)
√ Ombre technique Particle micro eyebrow (1Point)
√ Method Handle eyebrows did too bold into natural eyebrow color.
√ Way Edit damaged eyebrow spray or embroidery into a beautiful smooth eyebrow
√ Handling blue and red eyebrows to natural color standards
√ The secret to restoring the legs You have done through damaged, patchy, damaged eyebrows into new natural eyebrows without losing time to fix.
√ The secret to bringing ink to the skin properly so that after the eyebrows brush up, the standard color is beautiful.
√ How to create beautiful smooth colors For eyebrows after surgery hanging scars or scarring
√ Way Corrected oxidized eyebrows with green & red color, uneven color into a new eyebrow with natural brown color.
√ Method Handle eyebrows did too bold into natural eyebrow color.
√ Share common mistakes when covering Ombre eyebrow powder and how to fix it.
√ Attached to the eyebrow shape suitable for each face, how to adjust the golden guard
√ Technology using numbness, how to make standard ink in each case, suitable for each customer's color.
√ Measurement techniques app draw eyebrows Standard according to the golden ratio of the face
√ Manuscript of common mistakes in eyebrow embroidery spray.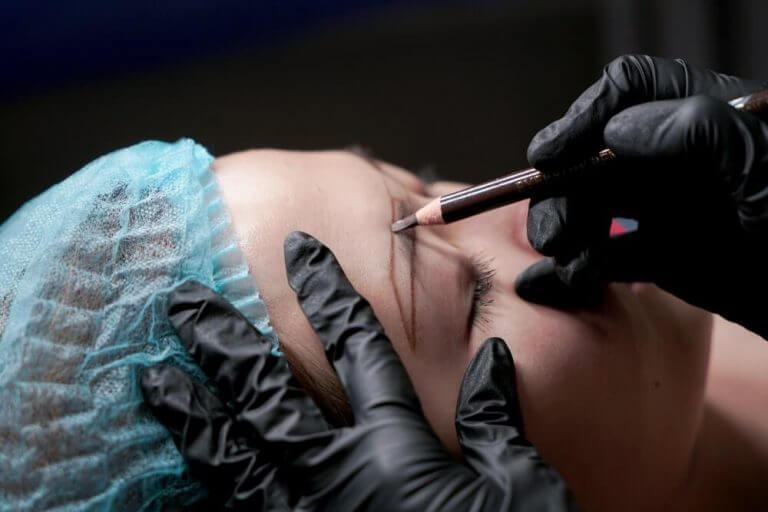 Send MissTram Information To Call For Free Advice
3. Sculpture of micro-technology points of Europe (Aquarell Technique)
√ A guide to basic and advanced lip treatment
√ Technical Lips Full Lips (Aqua Lips), Ombre Lips, Queen Lips
√ Close to the ink process according to each skin color and desire of customers to set up the color standard
√ Instructions for using the most accurate Safe numbness
√ Learning goes together with the practice of European technology micro sculpting from beginner to advanced level
√ Sculpting full micro-lips, sculpting of soot, crystal lips, collagen, stem cells, etc.
√ How to treat damaged lips, opaque color, lips with holes, lips with edging, damaged lips, etc. into new lips with beautiful smooth color
√ How to fix lips, lip contours: too thin lips, small upper lip, thin lower lip, small lips, thick lips, lips with two drooping edges, upper and lower lips are not equal.
√ Treatment method lip color too dark, uneven lips, lips smeared, lips bruised
√ Create equally colored lips scarred, cleft lip
√ The secret to erasing lip color with high technology 100% does not leave scars
√ Customer care skills after Spraying / Sculpting lips to get beautiful lips, color like that, Durable color> 5 year
√ Miss Tram shares the secret to help guests feel comfortable during the procedure as well as completely painless after doing
4. Sculpting eyelid micro-touch Magic Eyes
√ Comes from Eyelid Spray to Magic Eyes Touch Sculpture
√ Spray details / sculptures of natural eyelids, water eyelids, fish eyelids, phoenix eyelids, deer eyelids, etc.
√ Classic eyeliner spray technique, eyeliner shading, eyeliner eyeliner magic make up
√ The technique of sculpting Ombre eyelids touches natural particles to the art
√ Intensive sculpted micro eyelid touch open irises
√ Common mistakes in new eyelid spray / sculpture and how to fix it
√ How to treat blue, red, white eyelids with smooth, natural eyelids
√ How to remove old ink color with liquid or High Technology according to European standards
√ Eyelid anatomy technique European standard precision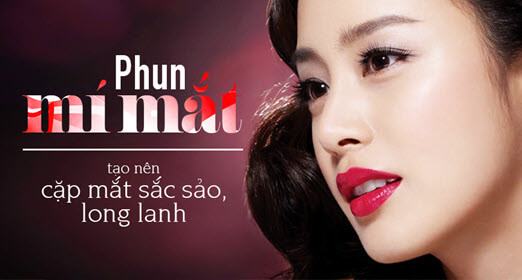 Also, only at Miss TramYou are

SHARING SECRET 

CONFIDENTIAL handling:
√ In case of customers with blood thinning, what should we do?
√ Customers with hard-to-eat skin should do?
√ Customers have the opportunity to eat skin numbness do?
√ The secret to handle tattoo ink color is sunk, bold, no color as desired when put on the skin.
√ In the process of tattooing, purple and bruised skin must be handled like?
√ How to get red and blue skin when dealing with it?
√ Tattooing is having a power outage, what to do?
√ Experience managing business aesthetics 1 the most scientific, safe and economical way.
MissTram Message Contact You Free Advice

*Note: We only accept students when you pass the interview. This is a vocational course that we invested in over 17 years of developing the curriculum so we are very dedicated. So we really hope you seriously consider this a sustainable career.
What we focus on is that students after the course get a solid job, open a store and earn tens (even hundreds) million every month with a passion for beauty for everyone.
Please contact Miss Tram immediately for more advice on the study path and see if you are suitable for this career or not!
Number of Miss Tram Students Still Receiving:
+ May 12-2019: Only receive 2 more students.
+ January - 2020: Still receiving 5 students.
+ February-2020: There are still 7 students.
Register For More Advice About The Course:
[Answering Frequently Asked Questions]
1. Hello Center, do you consult through some training institutions currently on the market, the tuition at my center is a bit high compared to other places, not knowing my course is different?
Hello, as we mentioned on the article. This is a vocational course that we invested in over 17 years of developing the curriculum so we are very dedicated.
Our goal is that the students after the 100% course have a solid professional career in both soft and professional skills, so you can Confidently open a facility, train students or work at major beauty centers with salaries more than expected.
We have a high tuition fee market because we are committed to the quality of the course. The center helps you solve apprenticeship "problems" in some current establishments such as:
After studying you spend tens of millions of dong but still cannot do it;
Do not know how to handle customer crisis leading to loss of quality - loss of customers;
Not to closely follow the practice, only to see the model teacher or many students practice only the same sample;
No support after graduation if having difficulties;
You are promised a career but at the end of the course, even if you go to the facility to see it, you will not be more dedicated - leading to confusion when doing the job;
Although when you register you want to learn from basic to advanced level, when you learn, you will need to learn other classes if you want to graduate safely or compete with the market;
2. Hello center, I don't know anything about tattoo spraying so I'm worried if I learn it quickly, I won't make it. If so, do we have classes slowly?
Hi E, we currently have 2 training methods:
1. Intensive study is suitable for students who do not have much time, such as overseas Vietnamese returning home, students in the province, students who have learned the profession they want to improve to or learn to manage facilities.
2. Training methods 1- with -1 will suit you like E, E want to be assured to learn slowly. Accordingly, we will confirm E's learning process (E will learn to go there, if E is not good, the teacher will attach that part to E) to ensure E's benefits are fully learned. course. At the same time, E is flexible in arranging study time with his instructor!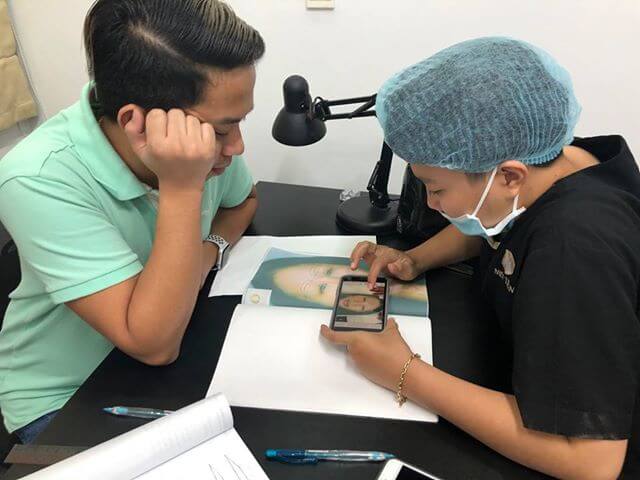 3. Hello Center, I just graduated from grade 12 but do not want to take the university entrance exam, but I want to study cosmetology tattoo job to go to work. My family is also supportive but I don't know if I have a job or not, I hope the Center will answer! - (Van Anh)
Hi Van Anh, as the end of the article, the Center also shared, "Dedicated students will receive a scholarship up to VND 10 - 30 million and work officially at Miss Tram Beauty Center".
Accordingly, through each training course, we will prioritize candidates who want to stay with the Center for a long time so I still have a chance.
In addition, a lot of students finished studying to open a shop, go abroad or confidently apply for jobs at major beauty centers. Miss Tram is proud of 100% candidates after graduation doing the right job in the field of cosmetology and being skilled with her dream salary.
Please register for an interview to get more details as well as any other questions you may have!
4. Hello Center, I really like this job but my eyes are nearsighted can not learn and then do it?
Hello, Spray embroidery - A fine sculpture does need careful, meticulous but your eyes will be "not too tired" like when you learn eyelash extensions. In case your eyesight is not good, you just need to wear suitable glasses, it will not affect the learning process or the results. You peace of mind!
5. Hello Center, I have carefully studied the content of the course and I enjoyed it. But I wonder if I don't have a "talent" for beauty, I don't even know how to draw eyebrows to suit me. So can I learn and is it difficult to learn?
Hello E, no problem. It is a fact that more than 90% students in Miss Tram Beauty Salon are like the case of E, you love the job but do not have any experience about the profession. What's more interesting is that you absorb the learning process quite quickly, very hard practice.
Normally, if E has a good taste, it will be an advantage, but E loves the job and tries to learn, the result is more than gifted. E will be enthusiastically guided by the Teacher according to his own learning ability, not be swept away with other students so I am assured!
6. Hello Center, I am planning to finish studying to open a shop, I think there are many courses in my side, I do not know which course is suitable for?
Hello E, if E intends to learn to open a shop, he should study all the eyebrows - eyelids and lips. However, depending on the target of E customers, the Center will have 2 course suggestions for E as follows:
1. If E intends to study and then opens his own small shop, about 2-4 beds, making soft prices for common people, just spray eyebrows, eyelids, beautiful lips but also does not require too professional then E only needs to register the Basic Embroidery Advanced course at Center.
This course will include the following: Crystal eyebrow spray, Powder eyebrow spray, 3D - 6D embroidery, red-green eyebrow treatment into new embroidery eyebrow, etc. - Spraying, eyelid treatment - Treatment dark lip, crystal lip spray, collagen lip spray, Queen lip spray, etc. as well as related correction. Actually, after completing this course, E can still confidently open a shop because E has mastered the standard contents in the aesthetic embroidery spray industry from the beginning.
2. In case E wishes to learn full eyebrows - eyelids - lips from unknown to all the latest technology, steady workmanship and then opening a shop, E should invest not only the cost but also the time and serious dedication to take the course from Basic to Advanced and to Advanced Professional.
The course includes not only Spraying, Embroidery, but also training on European standard Fiber Sculpting - Phibrows - Sandy - Ombre, etc. and The secret of handling business situations, etc. E course can safely open shops or train students. 
7. Hello Center, soon I have time to return to Vietnam about 3 weeks, I want to register for a class specifically for the eyebrows, I don't know if I can learn it in time, I study a bit slow so I was worried.
Also let me ask is not always know if your side has eyelash extension training so if I have time, I will study, thank you!
Hello, because the number of students per month is limited, so you should register in advance to coincide with your return home! You are assured that a comfortable 3-week period for you to study and practice your eyebrows from the basic to the advanced level, including full spray, Embroidery, Sculpting 9D fiber according to European standards, remove fix, handle damaged eyebrows into eyebrows New sculpting as well as The secret in making eyebrow profession.
The learning process will be accompanied by practice, you will have the teacher with your own learning ability to gradually complete the content of the transcript, after which the Center will take that part to confirm and adjust. for you so you can feel secure offline!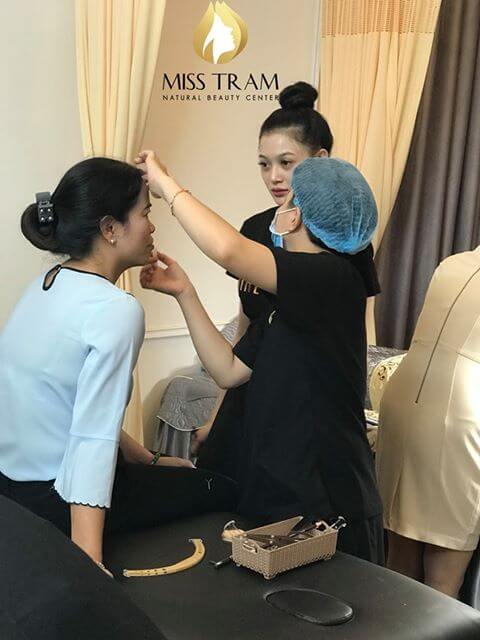 8. Let me ask if you thought you would go to school just register again, you see in other places. Why is it difficult for the Center to interview students and do interviews because I read that I would love to study my place but I'm worried that the interview will not be successful!
Hi hello, with the goal of 100%, after completing the course, all students will be confident to do the job as well as the enthusiasm to teach the profession of the teachers and teaching assistants at Miss Tram Academy.
Each month, the Center will receive only the insufficient number of trainees to supplement training and there is only a limit, so the interview is the time when the Center feels serious, enthusiastic and wants to stick with the students' careers. , to be honest, it's not as difficult as E envisions or worries, nor is it going to get a job interview!
As long as E loves the job, goes to work with the mind, with the desire to devote to help people look more beautiful every day in a natural way, Miss Tram Academy is very happy to welcome E!
9. Can the tuition at the Center be divided into installments to pay or must it be completed in one go?
Welcome, tuition will be completed on the first day of registration because the Center will complete the profile, curriculum, all the complete equipment of the course as well as the EXCLUSIVE curriculum at the Center for students.
However, the Center has a policy of supporting the payment of tuition into 2 installments for students as follows: "In case you want to take the full course from Basic to Advanced Professional but not enough tuition to pay at one time, I You can take the Basic course first, then cover the missing tuition to study for Advanced Professional! "
10. Hello Center, let me ask how long is the duration of a course by the Center, how long do you take intensive courses because you want to study slowly but surely?
Hello E, the time to study at Miss Tram Academy will be from 9:00 am - 4:00 pm every day from Monday to Saturday. However, the study time will be flexible according to the students' arrangement because each of you will have a transcript. his own learning process, which is why it is not compulsory for E to be in that class. During the day, E will have free time. E, please go to class. When E comes into class, the teacher will monitor the report card and guide the next content for E without worrying about losing the lesson.
Usually the students go to school from 3 to 6 hours a day with average capacity, it will last for about 2 months, for fast learners, only 2-4 weeks!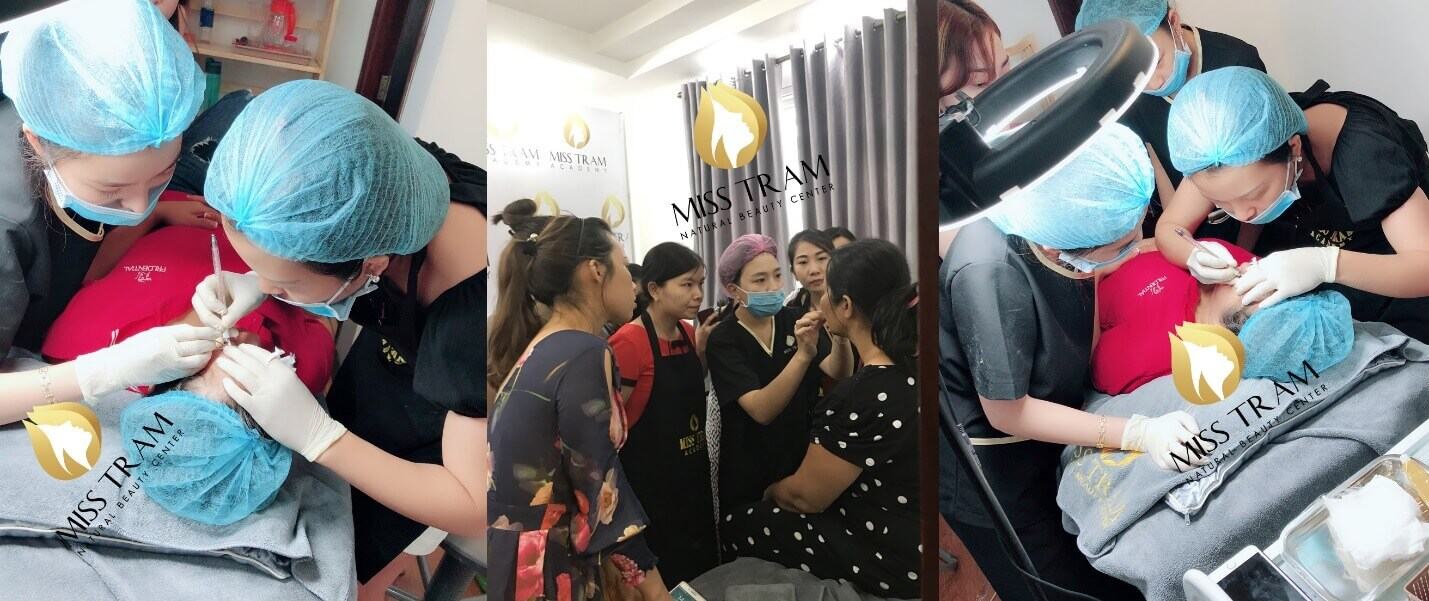 11. I wonder if the number of samples provided by the Center for students is because there are so many training institutions that promise to put up samples to do but only 1.2 people and the whole class works together, I see crime for the model but also our students themselves can not collide reality, although graduating but probably also did not dare to guest!
Hello E, this is a question that the Center has received quite a lot of time, and almost every interview you are worried about this issue.
According to the criteria that students who complete the course must be skilled, the Center will provide students with at least 4 real samples, this form is completely free and includes the cost of accompanying samples and ink to make samples. ,
In addition, in case if after 4 samples that E still fails to meet the required results, the Process Monitoring Department will recruit additional samples for e practice until passing,
In case E has met the requirements but wants to do more to harden his skills before going to work or opening a shop, the Center will support teachers to give E 8 more samples, all of which are clearly stated on the report card. My admission should be assured.
Students practice spraying Ombre eyebrows on real models at Miss Tram Academy

12. Hello Center, I like this job a long time ago but before that I was not qualified to pursue a career, now although I have a stable job but I have never stopped dreaming of being a beauty professional for everyone. I was just worried that if I just watched the videos, I could not keep up with other students, and if I taught me for too long, I didn't know if the instructor was devoted, I thank you. ! (Thao Nhi - District 9, Ho Chi Minh City)
Hello Thao Nhi, receiving your confidences, we feel that you are a learner full of enthusiasm and passion. Back to the problem you are worried about is if I do not keep up with the lessons and ask a lot, ask back and forth, will the teacher show me willingly?
This makes you feel secure because every Student will have a Document confirming what has been learned, which is all the information about the course in the most detailed way. Every day you go to class, the teacher and the assistant will complete the contents with you one by one.
And to put it most honestly, the Teacher has a responsibility to help you understand the entire learning content "to get paid". Therefore, even if you are a "special student", the quality of completing the course will be equivalent to that of other classmates. You peace of mind!
13. Hello Center, I am worried like this I hope the Center answers. In addition to being a professional, skills such as counseling, explaining to guests about technology and guiding customers during and after work are also important, they do not know these issues. in the course or not?
Hello E, this is the difference of students when completing the course at Miss Tram Academy. In addition to 80%, learning content is interactive with real cases as well as learning in parallel with practice, the rest of 20%. crisis management of customers before, during and after beauty.
In the Customer crisis handling skills course, students can come to different practical situations and can directly ask Experts the questions they have questions to be answered, equip themselves with the knowledge. knowledge needed later in the profession. Therefore, after finishing the course, every student at Miss Tram Academy can be ready to welcome the first guest professionally, confidently E!


STRAIGHTENING MICROBLADING 3D-9D YARNS

In addition, the Center has a Professional Training mi course, guys, especially every month the Center has a number of gifts FREE when signing up for a course. If you are one of the lucky students will be included with no charge offline! 
Miss Tram Beauty Center - For sublimated beauty
Hotline: 1900 7018
Mobile: 0909 783 289 - 093 718 6060
Address 1: 30 Dang Thi Nhu, Nguyen Thai Binh Ward, District 1, Ho Chi Minh City
Address 2: 126/6 Phan Xich Long, Ward 3, Binh Thanh District, Ho Chi Minh City.
Working time: 9:00 am - 6:00 pm (All days of the week)
Register Now For Immediate Advice About The Course:

Especially (exclusive at Miss Tram): Students are granted VIP account, have the right to learn all online courses (makeup, nail, skin care, ...) of Miss Tram internal. Details can see through: http://misstram.edu.vn/tong-hop-cac-tai-lieu-dao-tao-noi-bo-tai-hoc-vien-miss-tram/