Top 9+ Spas Skin Care, Cosmetic Tattoo Sprayer In Tien Giang
Cosmetic tattooing and skin care Currently, there are two beauty services that are of interest to the majority of women. But, to be able to choose a prestigious spa, quality between hundreds, thousands of addresses is not an easy thing, is it? Therefore, the following article Miss Tram will introduce you to the list of reputable cosmetic tattoo and skin care address in Tien Giang. Stay tuned!
Top 9+ Spas Skin Care, Cosmetic Tattoo Sprayer In Tien Giang
1. Seoul Spa
With the system of equipment, machinery, leading technology in the world. With a team of highly qualified doctors and doctors who have worked for many years abroad for sure Seoul Spa will bring to you The most perfect service.
Address: 290C Ap Bac, Ward 5, Tp. My Tho and Tien Giang

Phone: 1900.6947
2. Queen Spa
Queen Spa Always a reliable place for women to send their faith. It owns a team of highly skilled, skillful, delicate, technical and technical eye modern technology.
Address: 95 Nam Ky Khoi Nghia, Ward 4, Tp. My Tho and Tien Giang

Phone: 027.3651.0000
3. Ngoc Thanh Spa
Ngoc Thanh Spa is a place where technology is constantly updated Skin Care, Spray cosmetic tattooing The latest, safest and most effective.
Address: 122 Ap Bac, Ward 10, Tp. My Tho and Tien Giang

Phone: 0986.521.078
4. Ngoc Huong beauty salon
Come to Ngoc Huong Beauty Salon, you will be visited by leading experts in skin care and cosmetic tattoo spraying. They will directly advise you on the best service and the best fit for each location.
Address: 548 Ấp Bắc, Phường 5, Tp. My Tho and Tien Giang

Phone: 027.3398.9939
5. Khanh Thy Spa
Khanh Thy Spa have modern and spacious facilities and standard lighting; with a staff of friendly and professional. Therefore, you will definitely feel satisfied when using the service here.
Address: 105B Nguyen Van Giac, Ward 3, Tp. My Tho and Tien Giang

Phone: 027.3397.8779
6. Anna Spa
Here you can be completely assured of the quality of service, by Anna Spa Always endeavor to regularly update these beauty technology Modern, safe and most effective.
Address: 107/4/4 Street, Quarter 2, Cai Lay, Tien Giang

Phone: 0899.956.222
7. Thanhrosie International Beauty Salon
International beauty salon Thanhroise will bring you the best quality beauty services at the most suitable price. Moreover, it comes with famous product lines imported directly from advanced and developed countries in the world.
Address: 426B Trần Hưng Đạo, Phường 5, Tp. My Tho and Tien Giang

Phone: 0939.454.690
8. Huy Hoang Spa
Huy Hoang Spa It is evaluated as the address to provide quality tattooing and skin care services in Tien Giang with a team of experienced and skilled professionals.
Address: 118 Tran Hung Dao, Ward 6, Tp. My Tho and Tien Giang

Phone: 0762.691.993
9. Kay Spa
Come Kay Spa You will experience the full range of modern equipment, manufactured and supplied from many developed countries around the world. Moreover, the team of skilled cosmetologists here are masters and doctors.
Address: 59H Le Van Pham, Ward 5, p. My Tho and Tien Giang

Phone: 1900.3055
10. DIVA Beauty Salon
With the outstanding advantages, as well as extremely high quality beauty services should Beauty salon DIVA is a place worth paying attention to when looking for a place for cosmetic tattooing and skin care in Tien Giang.
Address: 213A Ấp Bắc Street, Phường 5, Tp. My Tho and Tien Giang

Phone: 1900.6689
11. Equation Spa
The skin care and cosmetic spray services at Spa equation Always give customers the latest, most modern beauty experiences by experts with years of experience.
Address: Trần Hưng Đạo, Phường 5, Tp. My Tho and Tien Giang

Phone: 0919.754.629
12. Aura International Beauty Salon
Aura International Beauty Salon is a great choice that you should not miss in Tien Giang. Here, you will experience in depth the best cosmetic and skin care tattoo services.
Address: 141 Ly Thuong Kiet, Ward 5, Tp. My Tho and Tien Giang

Phone: 0868.888.141
Spray cosmetic tattooing is the necessary beauty needs of many women. However, how to go to the spa effectively and economically is what most women wonder and worry. So, right now to make it easier for you to choose then Miss Tram Please tell us, but the criteria to choose Prestige spa address. Let's refer to Miss Tram.
4 Criteria Help You Choose The Prestige, Quality Beauty Spa Address
Choose an address with clear, well-rated information
An address Prestige spa, quality will be made clear that relevant information will be provided clearly, specifically and transparently (address, phone number, ...). Moreover, this address has been posted, reviewed or evaluated by many websites. This is not only help you find information easily. At the same time, it also somewhat confirms the professionalism of that spa address.
Choose a clear information address, many years of beauty experience
Good care
This is one of the quite important criteria to evaluate the prestige and quality of a beauty spa address. If the beauty spa you choose to provide good customer service, attentive, dedicated; then the quality of the spa's services is also guaranteed.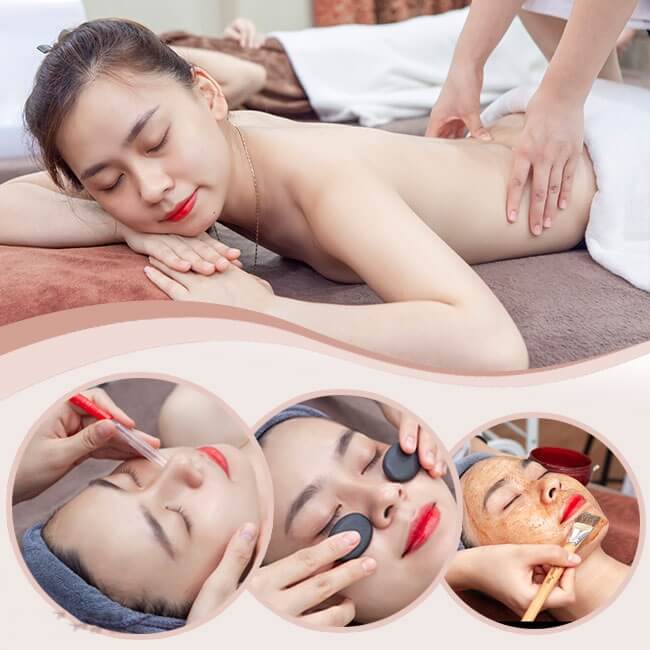 Good customer service, attentive
Equipment modern machinery
With the current beauty trend, reputable and quality spa units often invest in equipment. Therefore, these spas often have advanced equipment and modern machines to best meet the needs of customers.
Service brings good effect
To be able to refer to the results of the spa services of your choice, you can see the comments, reviews and comments of customers who have experienced before.
Beauty services bring the best effect to customers
Besides, if you master the following experiences, choosing a reputable, professional spa address for you will become easier than ever: Experience in choosing a quality aesthetic tattoo spray address.
Above is a list of these Address spa spa tattooing, skin care in Tien Giang same experience choosing Prestige and quality spa but Miss Tram Want to share to you. Hopefully this will be useful information to help you guys. "choose face send gold"At an address that best matches. Thank you for watching this article!
Miss Tram Natural Beauty Center - Beauty but natural.
Miss Tram - Natural Beauty Center
Hotline: 1900 7018
Mobile: 0909.783.289 - 093.718.6060
You are viewing the article Top 9+ Spas Skin Care, Cosmetic Tattoo Sprayer In Tien Giang in the good handbook Top Beauty Spas In Vietnam of the Miss Tram. All reviews, comments please send directly to the email address teamcrmmisstram@gmail.com or can comment right below the article. Do not forget to follow more good articles of Miss Tram and share to everyone to know.