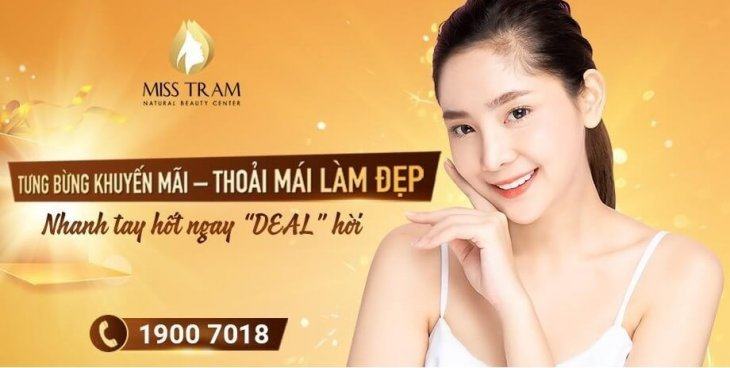 STAFF PROMOTION - COMFORTABLE BEAUTIFUL
Oh, the season of just cooking, sleeping and waking up cooking and sleeping, nails were blunt, the color of toenails were dirty, not allowed to go to the spa to take care of the skin, not to trim the eyebrows, ... THROUGH. Now she quickly hands down the "deal" to get a whole month of beauty with the Great Beauty Promotions with 1-0-2 at Miss Tram.
Bright, bright with many "DEAL" EXTREMELY, please choose:
Acne Hygiene Medical Standard only 200,000 VND / time. BIG offer> 70%, original price 800,000 VND / time.
Skin rejuvenation enjoyed with Salmon DNA Pure - Fresh Collagen Gold - Vitamin C  only VND 250,000 / time. Original price 1,200,000 / time that my people.
Fight off acne with a special Acne Treatment - Pitted Scar - Skin Regeneration immediately reduce #10%.
Beauty Eyebrows - Eyelids - Lips receive Super deals, discount to 55%.
SUPER SPECIAL: Get 1 free hair removal underarm Laser technology, applied when registering beauty services at Miss Tram.
Apply to buy up to 20 times with the following services: Standard Acne Hygiene, Skin Rejuvenation with Essencet DNA salmon, Collagen with fresh yellow essence - Vitamin C.
Duration of the program: April 30 - May 31.
Everyone quickly hunt for good deal!
Miss Tram Natural Beauty Center - Beauty but natural.
Miss Tram - Natural Beauty Center
Hotline: 1900 7018
Mobile: 0909.783.289 - 093.718.6060
Subscribe more Events - Specials else to quickly book yourself a special promotion at Miss Tram. Don't forget to check out the other great posts in the forum Blog Sharing and recommend to everyone to know!