Note When Using Skin Care Therapy In Spa, Beauty Salon
Things To Note When Skin Care At Spa, Beauty Salon
For many modern women, skin care at spas and beauty salons seems to have become a very familiar demand. The skin problems that are bothering you will quickly be solved by advanced beauty equipment and technologies. 
However, not all beauty establishments are eligible to give the best results for your skin. Therefore, Miss Tram - Natural Beauty Center Please share the points to note when selecting skin care treatments at Spa, Beauty Salon.
1. Choose a Spa / Beauty salon with good facilities
A prestigious Spa and Beauty salon will always have a good facilities: airy, comfortable and designed in each area to bring the professionalism and the most reliable feeling to customers. .
In particular, you need to pay attention to the beauty equipment is modern, sanitary or not? Are the Spa / Beauty salon uniform in good condition? Are personal belongings for guests such as: face towels, towels, clothes, skin care tools have been prepared carefully and clean? Because no one wants to use dry, damp, musty towels, and especially sticky hair, hair.
And the important thing is that with a good spa facilities, at least you can be at least somewhat assured, because surely the services there are guaranteed for hygiene and safety. Therefore, this is the first prerequisite that you need to verify if you want to experience quality skin care.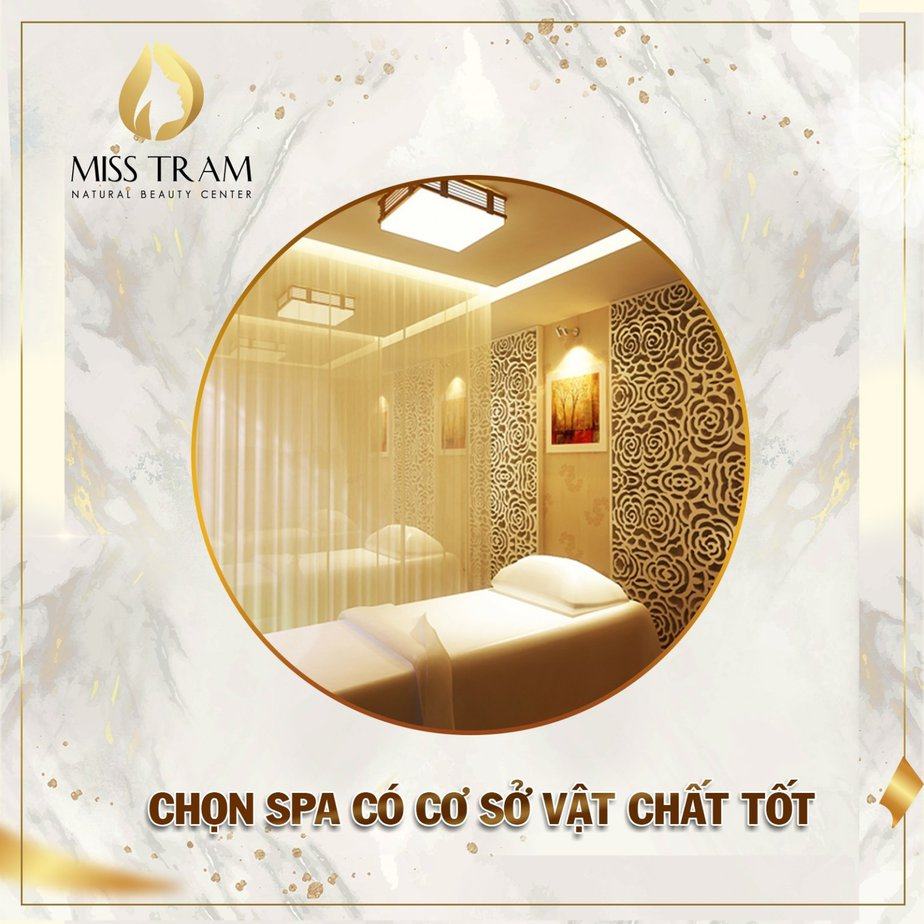 Spa has good facilities, modern
+ Note: Selection Criteria Good Salon For Eyebrow Embroidery
2. Choose the right skincare routine
After verifying the Spa / Beauty's facilities, ask staff to examine and advise appropriate skin care packages.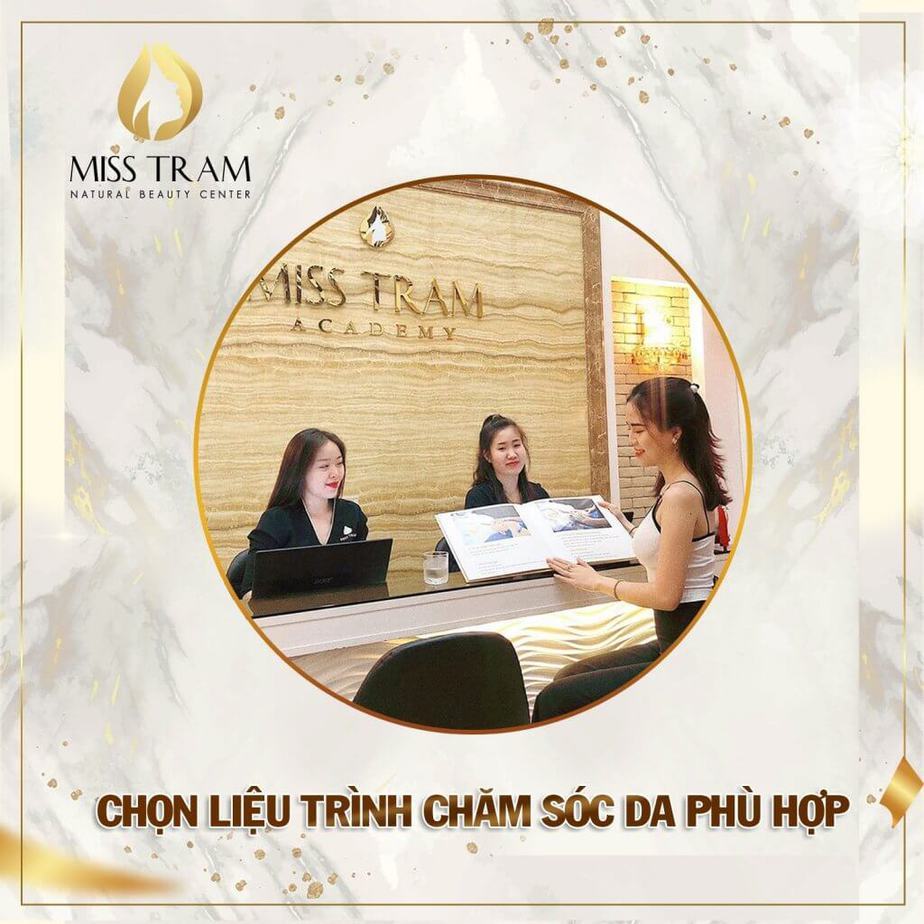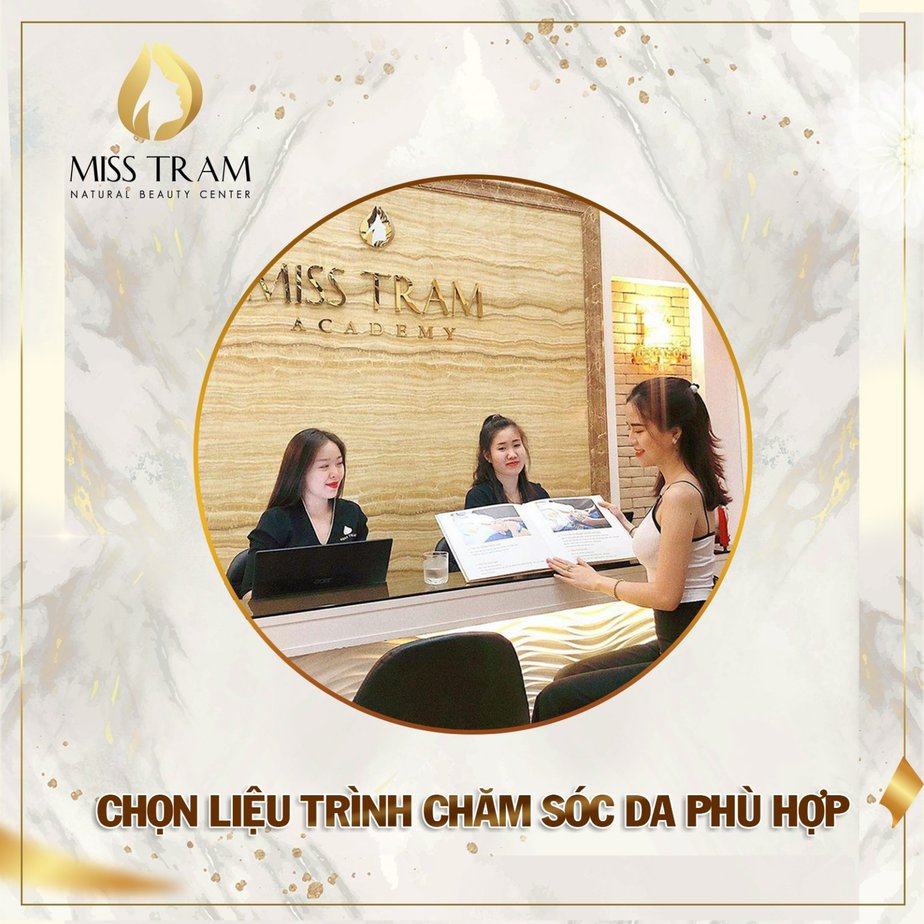 Advice on the most appropriate skincare routine
Usually, a specialist will perform a skin scan to help you better understand your current skin condition. The dermatological results are also the basis for the counselor to recommend the most suitable course packages for you to choose. Eg:
Skin condition
Recommended course
Note

Acne prone skin

Acne Treatment with Fractional CO2 Laser

Acne treatment with Green Laser / Blue light technology, Oxy Jet technology, Nano Skin technology, Bio Light technology ...

Need to use modern technology and machines, suitable for acne

Need to combine with proper skin care at home and adhere to the treatment schedule

Skin with large pores, uneven color

The process of spirulina helps smooth, tighten pores

Suitable for almost all skin types

Dull skin, greasy, grainy, large pores and gradually losing elasticity

Treatment of skin detoxification by CO2

Treatment of skin detoxification by biological light

Suitable for almost all skin types

Skin showing signs of premature aging (less elastic, wrinkled, dull skin) has more bruises and dryness

The procedure implants only Nano Diamond

At least some procedures should be used to bring about the most visible results 

Skin is less firm, saggy, with dark pigmentation

Salmonella DNA Electrophoresis

Contraindicated for people with severe acne skin, metal allergy, seafood allergy

Dull skin, many dull spots, melasma, freckles or wrinkles

Whitening treatment program of activated carbon Laser

Effective skin rejuvenation but does not solve the problem of sagging skin

Need to use the right laser wavelength, otherwise it will affect the skin

Skin has many signs of aging: wrinkles, sagging, less firm

The procedure to erase fat, slim face and body with Exilis technology

Skin rejuvenation process, slim face V-line by Hifu S + technology

It should be noted to limit the use of facial muscles immediately after the procedure: laughing, chewing gum, eating hard food so that the collagen fibers move to a fixed position. 

Skin pigmentation, dull

Treatment of melasma by Laser Yag technology

It is necessary to develop a suitable roadmap for melasma and follow the new route to completely remove the skin pigmentation
You should ask carefully about the package packages: what technology to use, how to process, the roadmap and commitment after completion .... Because with each skin care / treatment process, there will be long and short routes and different costs. If you are having acne, melasma, freckles, the treatment may take longer and cost than skin detox, whitening or rejuvenation.
In particular, feel free to share about the skin care procedures and cosmetics lines you use every day with a counselor, maybe they will find the cause of your skin problems as well as help you. Adjust skincare steps more sensibly.
+ Note: Safe, Safe Lead-free Formula Of Respirator Mask
3. Make sure the Spa / Salon has a service commitment contract
After selecting the course package, make sure the Spa / Salon has a clear contract of commitment. Having a commitment contract both demonstrates the professionalism of the beauty salon and increases your peace of mind and reliability of service quality. 
Therefore, consider deciding to use the service when the Spa / Salon does not have a contract of commitment, or the content of the contract is unclear / does not certify the legal entity. 
The spa is licensed to commit services
4. Skin pictures should be taken before and after the procedure for comparison
Taking pictures of your skin condition before and after each treatment course will help you easily track and compare how your skin care results are done. However, do not give your assessment too soon before you finish the course. Because depending on the skin condition and the condition that your skin recovery process takes more or less time.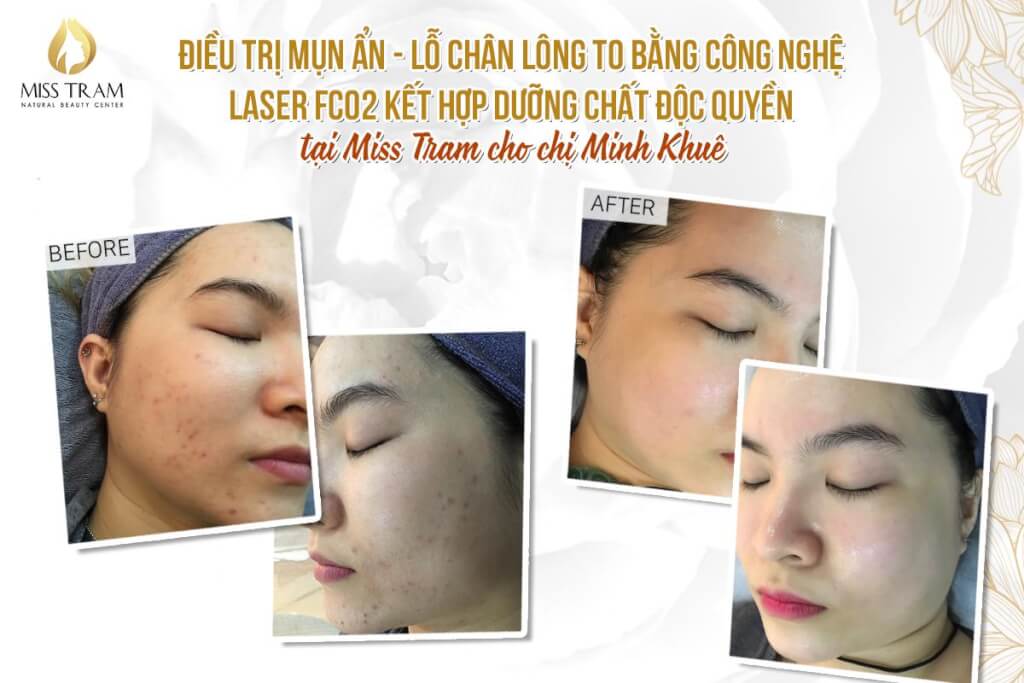 Photos before and after acne treatment, large pores with Laser Technology C02 combined with exclusive nutrients
5. Adhere to facial treatments
Most basic skin care routines such as relaxing massage, body scrubs, pores, skin detoxification, skin whitening, ... do not require / require many routes. However, with the treatment of acne, melasma, freckles, ... you need to follow a certain route to achieve the best results.
Many people quit halfway through not performing enough skin care / treatment. The main reason is that no noticeable change in the first time or no arrangement of time is found. These impatience will prevent the beauty process from achieving the desired results. Therefore, once you have chosen the treatment, you need to trust and follow its standard procedure if you want to have a healthy and beautiful skin.
One note is that you need to be wary of cosmetologists inviting to buy products during the first session. Because they do not understand your skin condition or skin reaction after the procedure (most people need a few hours to a few days to know the effectiveness of a skin care treatment).
Moreover, according to dermatologists, the effectiveness of a treatment session never depends on the purchase of the accompanying products for home use. So, don't rush to buy a new skincare product right from the first session without knowing them.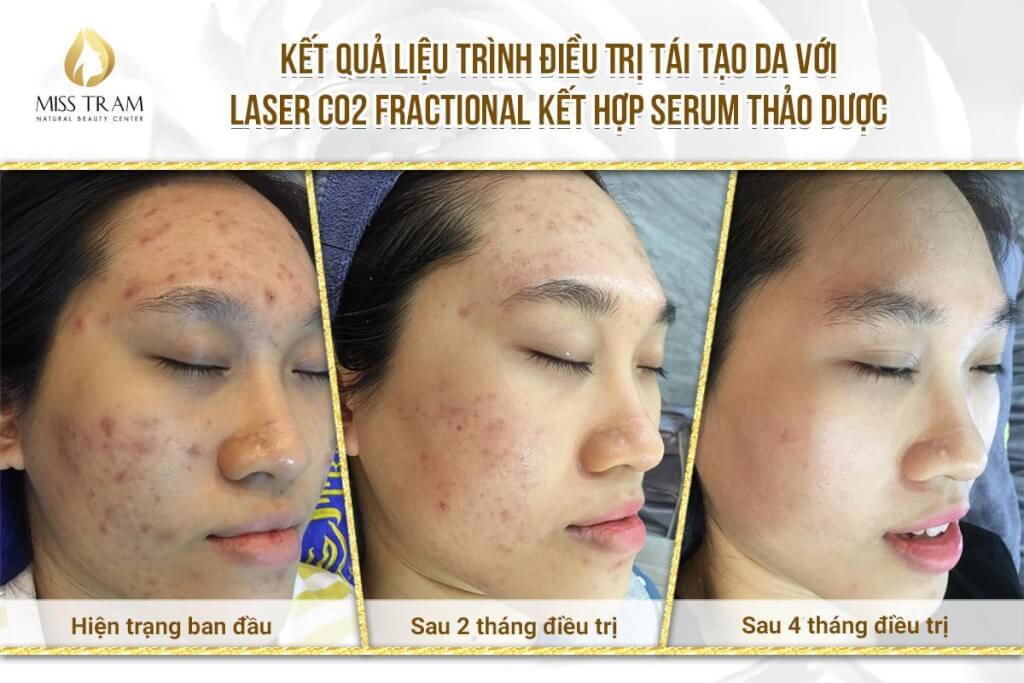 Photo of results of skin regeneration treatment with CO2 Laser Fractional combined with herbal Serum after 4 months
+ Note: The Secret to Proper Skin Care
6. Pay attention to the right facial care after the procedure
Each treatment will use different technologies or skin care methods. But in general, after most skin care treatments, your skin will be more sensitive than usual. Therefore, pay attention to the right facial care after the procedure:
Do not touch or touch the face.

Do not wash your face or skin for 12 hours so that the nutrients used in the process can work. At this time, you should only use gentle cleansing lines.

Do not use steam or vigorous activity immediately after treatment. This will cause excessive sweating, losing the nutrients on the skin.

Do not perform waxing, facial shaving or laser treatment for 5-7 days after the procedure.

Do not exfoliate for 2-5 days after the procedure to allow the skin to rest.

Always avoid the sun and sunscreen thoroughly after treatment. 3-5 days after the course. Because sensitive skin is easily irritated by makeup products.

Limit makeup approx

Providing adequate nutrition for the body, especially always drinking enough water every day to quickly recover and healthy skin from the inside.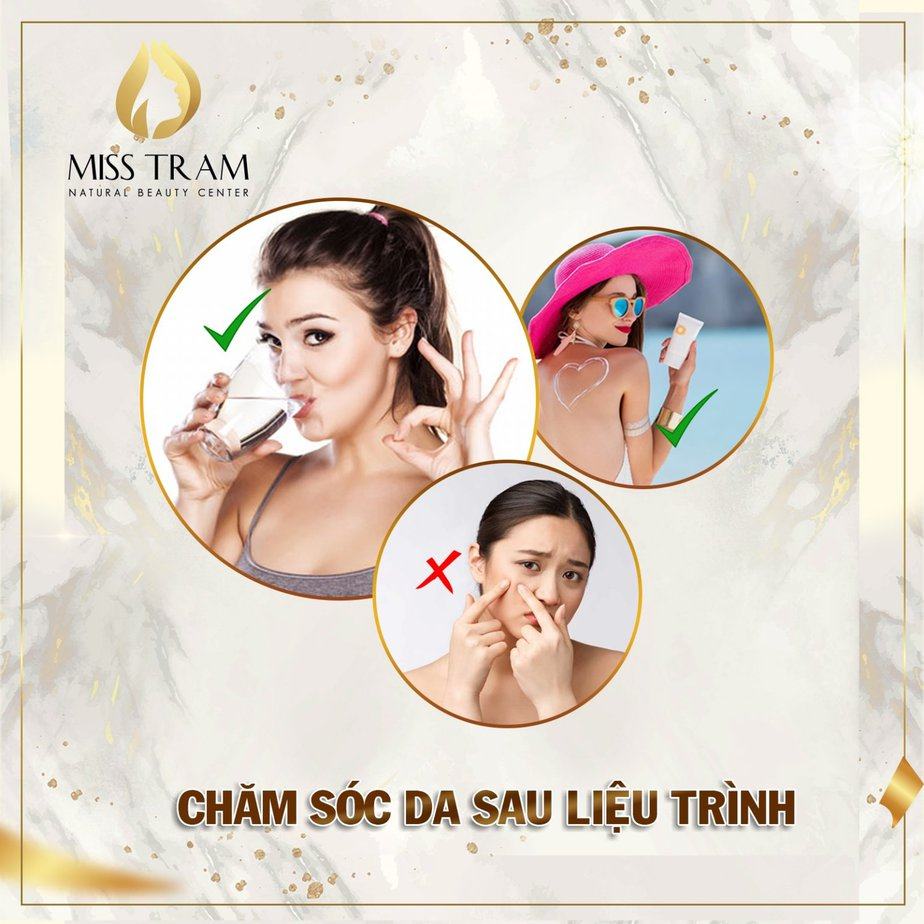 Pay attention to the skin care after the procedure
+ Note: The secret of simplest, most effective facial skin at home
Above are the share of Miss Tram - Natural Beauty Center about the note when choosing skincare treatments in Spa / Beauty Salon. To have the most beautiful skin, you need to choose a reputable beauty facility, with various skin care treatments and a team of highly qualified professionals. In addition, always follow the right route and have a home skin care regime to bring the best results.
Hope this article will help you. Wish you always have a healthy and beautiful skin!
Miss Tram Natural Beauty Center - Beauty but natural.
Miss Tram - Natural Beauty Center
Hotline: 1900 7018
Mobile: 0909.783.289 - 093.718.6060
See More About News - Beauty Secrets Miss Tram - Natural Beauty Center:
Recipes For Bright, Smooth Skin Naturally
What Should Women Do to "Expensive" As In Spring Thanh Xuan?