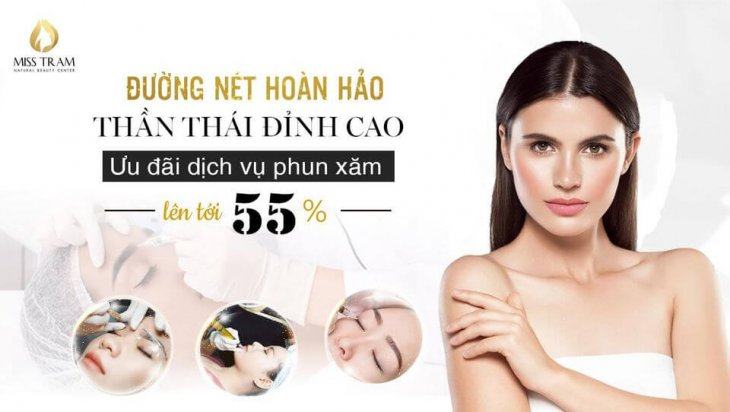 PERFECT FOCUS - THE THAI PEOPLE OF THE PRESSURE Spray Tattoo Service Up to 55% 
PERFECT FOCUS LINE - HIGH QUALITY THAI
Up to 55% Tattoo Promotion Service 
The time has come, beautifying now! The opportunity has 1-0-2 for our sisters to own the look they want without spending much money!
Less than 1 hour, the girls will be surprised with sharp eyebrows, radiant lips, and attractive beautiful eyes. Then wait, wait, don't register right away!
Miss Tram launched a promotion SUPER Shock, help women "sprung silk" to be beautiful this September!
DISCOUNT 55% for Eyebrows and Eyelid beauty services
NUTRITION OF ORIGINAL CHEMICALS Skin regeneration value smooth lips 1,000,000 VND when beautifying Lips
DONATE DEEP HANDLING from 1,000,000 - 3,000,000 VND when making ink Queen's lips
SUPER SPECIAL
Free Skin Regeneration Treatment, worth 1,200,000 VND for:
Old customers come back to beautify Brow - Eyes - Lips in the month

Guests do 2 or more service combo or go from 2 people or more.
This time Miss Tram Let's play it out loud: PROMOTION DEEP - LONG BEAUTYWhat are you thinking about without making a quick book.
Time application: 01/09 – 30/09/2020
Miss Tram Natural Beauty Center - Beauty but natural.
Miss Tram - Natural Beauty Center
Hotline: 1900 7018
Mobile: 0909.783.289 - 093.718.6060
Subscribe more Events - Deals else to quickly book yourself a special promotion at Miss Tram. Don't forget to check out the other great posts in the forum Blog Sharing and recommend to everyone to know!