Effective Permanent Laser Hair Removal Price List - Say Bye to Waxing‎ (Money-back guarantee if not satisfied)
Specialized safe hair removal procedure for both men and women
The presence of hair (in limbs, underarms, bikini area) depends on the location of each person and will have different conditions. This is a normal physiological phenomenon when going through puberty. Many of you are unfortunate enough that they "condescend" to each other to develop and then form dense, dense, dark hairs. 
3 Popular Hair Removal Methods At Home
+ Wax: Most often applied on large, hairy areas. This method of hair removal often causes redness in the skin, depending on the sensitivity.
+ Shaving: is the least expensive way to remove hair. This method is easy to perform at home, does not cause burning pain. However, it is not recommended to do this because it will make the skin surface rough and jagged when regrow.
+ Use hair removal cream: A method of using chemicals to remove hair without causing pain like wax. However, irritation or no longer depends on the location of each person.
+ Spitting with tweezers: often causes pain, resulting in rough skin surfaces, moreover prone to ingrown hairs or folliculitis.
In recent years, the methods of light hair removal have been updated in cosmetic establishments to bring the best effect to customers. Light hair removal possesses outstanding advantages compared to other methods:
+ High efficiency, long term: Each time the treatment is conducted, the hair is completely burnt, leaving no rough marks, black spots. After this, the regrowth hair is also lighter and more translucent, this effect can be maintained throughout the next treatment.
+ Safe: Not hurting pores, limiting regrowth darker and harder.
+ Easy to carry out and effective with many different skin areas, including sensitive areas like the armpits, the edges, the bikini.
There are many types of permanent hair removal technologies on the market, but they are classified into four main categories according to the technique: IPL, E-Light, SRH and Diode Laser.
Distinguishing Advantages - Disadvantages of 4 Current Hair Removal Technology
TECHNOLOGY

ADVANTAGES

DEFECT

Gong IPL technology

IPL (Intense Pulsed Light) hair removal technology works based on high intensity light source emitted from Flashlamp bulbs. The essence of IPL is a broad spectrum of wavelengths from 420nm - 1200nm. IPL wavelengths often used to remove hair are in the range of 610 - 950nm, can kill the hairs and destroy and prevent hair follicles from growing.

Reduce 40% hair after 3 months of treatment, remove up to 75% hair / after 1 treatment.

The remaining hairs will grow softer and thinner.

Low cost, suitable for the financial conditions of many people.

Hair removal with IPL technology helps improve and rejuvenate the skin.

Not effective on fluff, not for dark skin.

The treatment time is relatively long, each course consists of 15-20 times, each time is from 45 to 90 minutes.

Poor quality IPL hair removal equipment can cause skin irritation, blistering and startling users.

Elight technology

Use Elight light to burn hair follicles, helping hair follicles to become smaller. In fact, the Elight light is a combination of IPL and bipolar RF rays.

Relatively high hair removal effect: reducing 40% of hair after 3 months of treatment, at the end of 1 course, it can reduce up to 75%.

The hair may grow back, but it is soft, thin and paler

Affordability

1 course usually lasts (from 10 to 12 times), time is from 45 to 90 minutes each time

May cause slight redness and irritation

Laser Diode Technology

Diode Laser is the technology to eliminate hair by RF (Radio Frequency) with wavelength from 808nm - 810nm. This technology has the ability to destroy and prevent nutrition from hair follicles to the hairs. Due to insufficient nutrition, the hairs get weaker and naturally shed.

Highly effective permanent hair removal, from 70 - 98% depending on the location

Short elimination time: from 5 to 10 times, each time is from 10 to 30 minutes.

Laser diode has a built-in cold thermal conductor that helps to reduce burning, redness and blistering of the skin.

Suitable for many skin types and can be adjusted to suit each area of the body.

Improve the skin, reduce inflammation of the hair follicles, and stimulate collagen production, tighten pores, rejuvenate the skin.

May cause blistering if the technician is poorly qualified

The hair will grow back after 5-10 years depending on the location of each person but this time it will be thin, weak, more pale.

OPT - SHR technology

It is a technology that uses light passing through a 650-950nm wavelength filter with a frequency of 1-8 hz to generate continuous and stable, effective hair removal. The light energy converts into heat after it has penetrated and stays in the skin for about 3 weeks to eliminate the nutrition to each hair, making the hair weak, soft and gradually shed naturally.

Does not cause burning pain, stinging, discomfort.

Stable, uniform energy

Radical hair follicle root

Quick, short removal time: Remove hairs after 4 - 8 sessions. Each time is done in 10-15 minutes.

Completely lighten the skin, support the treatment of folliculitis

Hair removal with OPT SHR technology is suitable for both men and women, suitable for almost any hair.

May cause blistering if the technician is poorly qualified

The hair will grow back after 5-10 years depending on the location of each person but this time it will be thin, weak, more pale.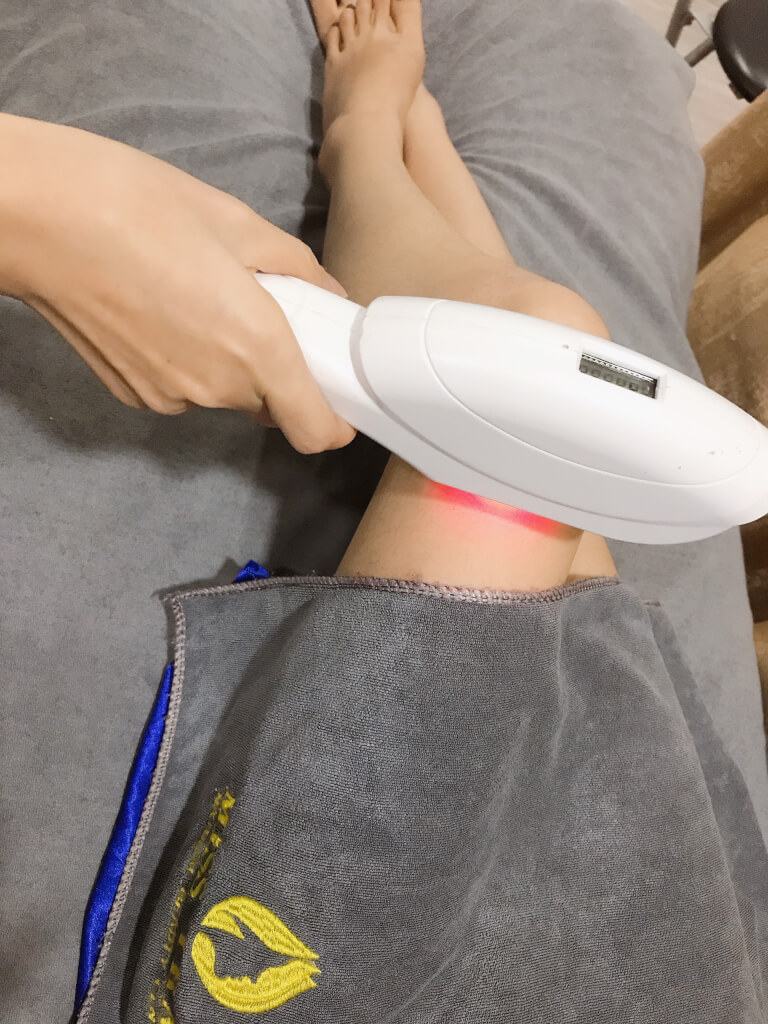 How will laser hair removal destroy?
When laser hair removal is permanent, doctors will use specialized equipment to fire and fire each hair on the skin. These lasers create small explosions on the skin at an incredibly fast rate that the naked eye cannot perceive and destroy the hair follicle cells.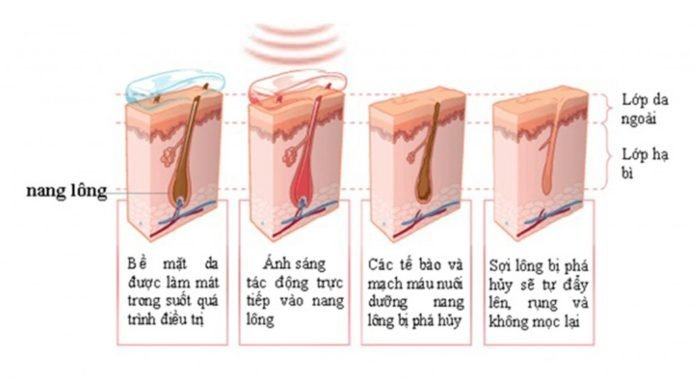 PRICE LIST OF REFERENCES FOR WOMEN (Cost varies according to Thorough Technology in each facility)
ZONE

COST EACH TIME

COST OF PACKAGE (The number of abortions depends on the establishment.)

Armpit

200k

- 800k

15 millions

Edge

150k - 700k

1- 4 million

Face

500k - 2 million

2 - 6 million

1/2 Hand

300k - 1 million

2 - 7 million

Whole Hand

500k - 2 million

3 - 9 million

1/2 Legs

400k - 2 million

3 - 9 million

Yuan Zhen

500k - 2 million

4 - 10 million

Stomach

200k - 500k

2 - 4 million

Back

700k - 3 million

5 - 15 million

Bikini

500 - 2 million

3 - 10 million
PRICE LIST OF MEN'S REVOLUTION (Cost varies according to Thorough Technology in each facility)

ZONE

COST EACH TIME

COST OF PACKAGE (The number of abortions depends on the establishment.)

Armpit

300k

- 700k

2 - 5 million

Mustache

150k - 400k

1-3 million

Hair removal chin (beard)

200 - 500k

2 - 4 million

Face

800k - 2 million

3 - 7 million

1/2 Hand

500k - 900k

3 - 7 million

Whole Hand

700k - 2 million

4 - 8 million

1/2 Legs

500k - 2 million

3 - 8 million

Yuan Zhen

700k - 2 million

5 - 10 million

Stomach

500k - 2 million

3 - 7 million

Back

1 - 4 million

7 - 12 million

Chest

500k - 2 million

3 - 8 million
WHAT CAN MISS TRAM NATURAL BEAUTY CENTER FOR YOU?
Miss Tram applies hair removal solutions using the latest two technologies, Diode Laser and OPT - SHR technology. With the advantage of eliminating hair, it does not cause invasion of the skin, does not make burning vegetables or any side effects, suitable for both men and women.
Miss Tram - Natural Beauty Center transfers many modern hair removal technologies, committed to bringing absolute efficiency to all cases such as:
+ Waxing arms, legs, chest, back
+ Facial hair removal (beard, mustache)
+ Hair removal underarms, edges
+ Bikini area waxing
Hair removal treatment at Miss Tram - Natural Beauty Center:
+ Eliminate all hairs from rough, rough and harsh hairs on the body areas
+ Outstanding performance, long warranty period
+ Effective on dark skin areas, improve skin color and help shrink pores quickly
+ Treatment of cases of folliculitis, helps white skin smooth and firmer
+ Perform quickly, safely and without burning pain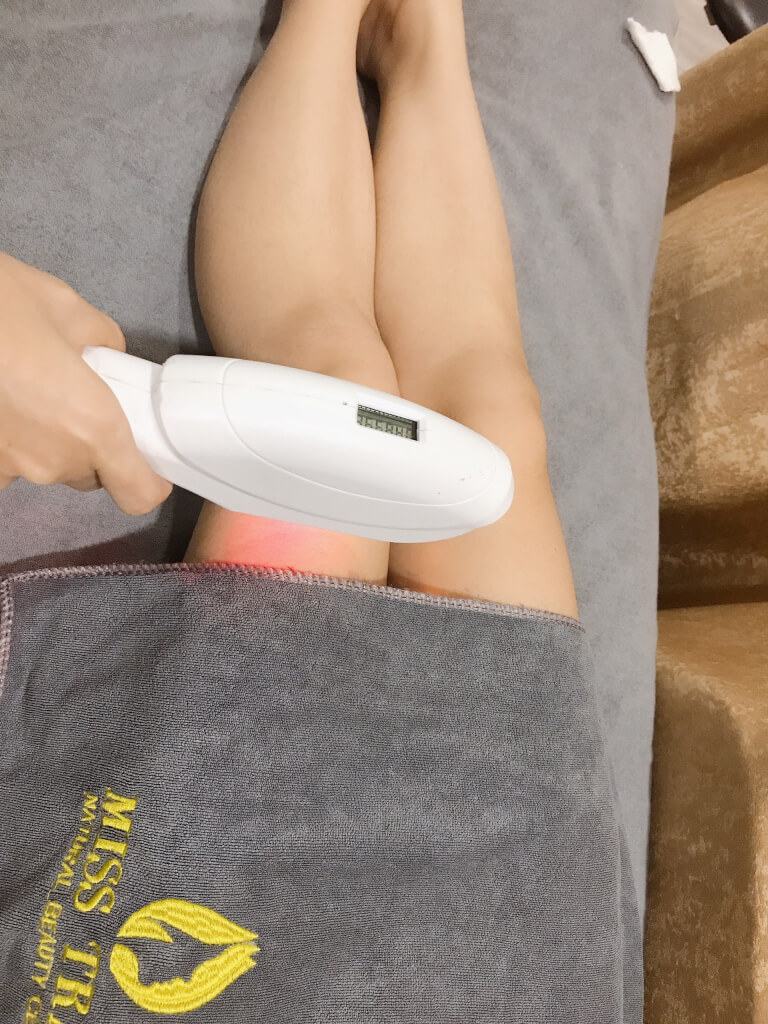 Not only girls but hair removal service at Miss Tram is also the first choice for "men" with services such as edge removal, beard removal, armpit removal or chest removal, etc. by the convenience as well as efficacy of the treatment.
Hair removal procedure at Miss Tram:
+ Step 1: Check and direct advice, customers will be more clearly explained about the technology and the appropriate treatment.
+ Step 2: Cleaning the treated skin helps to absorb wavelength better.
+ Step 3: Apply a layer of transparent cold Gel to the skin to help soften the hair, soothe the skin and avoid a burning sensation.
+ Step 4: Adjust the wavelength and power to the customer situation, laser diode or laser cTechnology man OPT - SHR into the hair area to be removed.
+ Step 5: Clean the gel area just finished.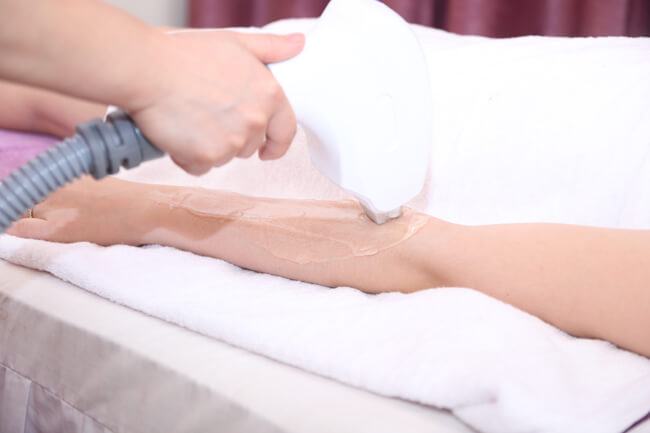 Use the service at Miss Tram - Natural Beauty Center You will be completely assured by directly performing are experts, skilled technicians, profound knowledge and long-term career experience.
All stages are conducted according to a professional process to ensure the highest efficiency and safety for our customers. Not only that, when coming to Miss Tram customers will experience no luxury Spa, class, the most thoughtful and dedicated service.
What are you waiting for, Miss Tram - Natural Beauty Center is always ready to serve you. Come to Miss Tram to "erase" these obnoxious feathers, confidently dressed in their favorite outfits.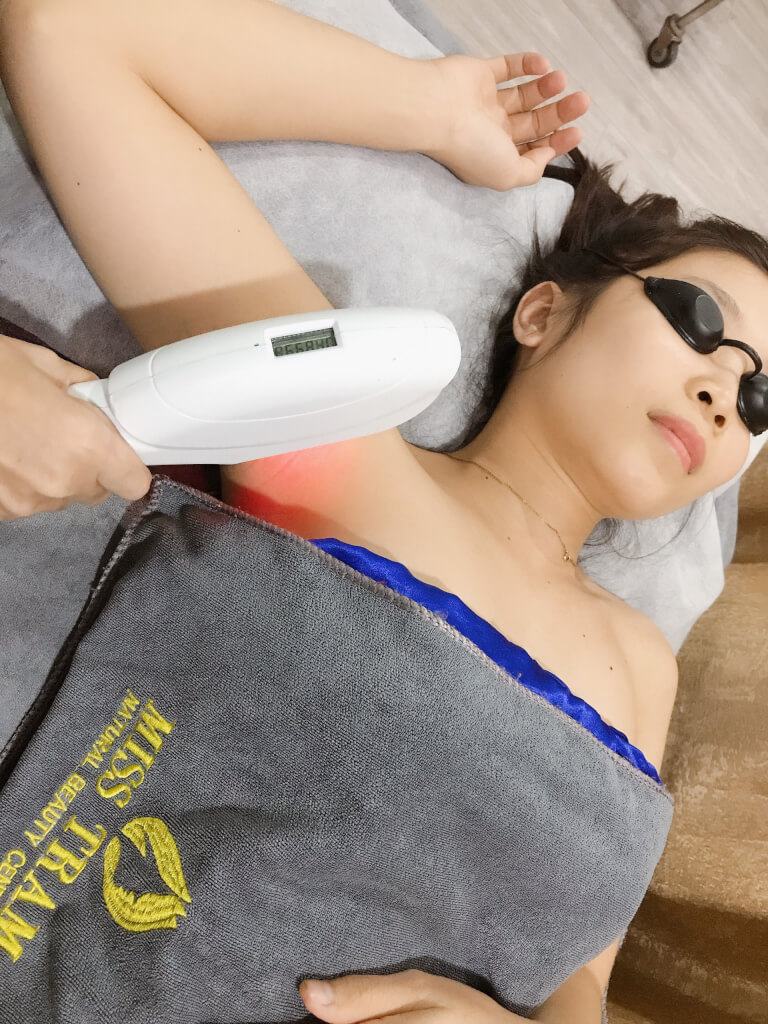 Contact Miss Tram - Natural Beauty Center by Hotline 1900 7018 for free and dedicated technology consultants.
[Frequently Asked Questions When Hair Removal]
Question 1: Hello Center, may I ask if hair removal is painful, I want to eradicate my armpits to help pluck but I'm afraid of pain!
Miss Tram greeted you, usually at the time you start to thoroughly will feel a bit sting like ant bites because at that time the hair is dark and thick. The subsequent radical times when the skin is brighter and the hair is thinner, it almost has no sense of you!
Question 2: How long does a hair removal procedure usually take?
Miss Tram salutes you, depending on the technology of each application, the hair removal time will also vary. Normally at Miss Tram, in the first 3 sessions you will go continuously every 10 to 15 days / time, then when the hair is already thin, maybe 20 - 30 days / time. Miss Tram currently has preferential hair removal packages for 3 years with unlimited number of hair removal treatments, you can choose to save the most!
Question 3: Miss Tram let me ask if facial hair removal has any effect on skin or health?
Miss Tram greeted you, after projecting a smart laser wavelength on the surface of the skin, the collagen bonds will be stimulated to grow from the inside, nourishing tissue cells. After removing the hair, your face will become more fresh, radiant and smooth than before. Therefore, facial hair removal is completely harmless, on the contrary, it also boosts collagen production to beautify your skin!
Question 4: Hair removal takes time to abstain from election or care how good is Miss Tram's advice to help me?
Miss Tram greeted you, sAfter permanent hair removal, you should pay attention to hygiene and skin care to maintain the best aesthetic results. Here are some tips to know for skin care after hair removal:
1. Clean the skin with a gentle product: Hair follicles after removal will be weak, you should only wash gently, often with cool water. Also, some mild cleansing products should be used at this time.
2. Absolutely not use cosmetics for the first 3 days: Chemicals in cosmetics can cause damage to skin tissue, which can cause inflammation. Therefore, it is important to avoid applying creams and cosmetics on the skin to remove the hair.
3. Regularly moisturize the skin: Hair removal causes moisture in the hair follicles to regularly "evaporate" easily, making the skin dry and does not have good elasticity. You should drink plenty of water so that skin tissue is well nourished from deep within. At the same time, you can choose products of natural massage oils, safe for skin to help increase moisture quickly.
4. Always use sunscreen: UV rays can cause hair follicles to produce melanin, which reduces the effectiveness of hair removal. Therefore, protecting the skin from strong sunlight is essential, important after permanent hair removal.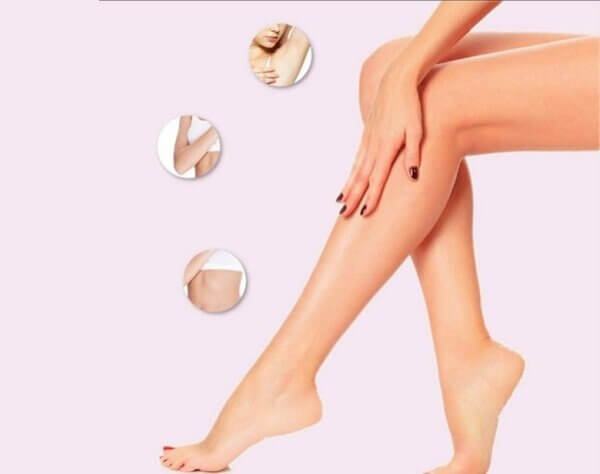 Question 5: Hi Center, I want to get rid of bikini hair but I'm worried about safety. Looking forward to the help center for me!
Miss Tram welcomes you, currently the Center is applying the two most modern hair removal technologies, Diode laser and cTechnology OPT - SHR suitable for all regions including sensitive bikini areas. You can be assured by the method of elimination does not bring burning pain or discomfort, absolutely safe for "little girl"! 
According to clinical studies, 80% women have admitted that they always spend time every day to care for and "clean" the private hairs. That makes them confident to wear more sexy clothes and especially excite the opponent in the bedroom.
Question 6: Hello Center, I find out information on the Internet, many establishments say that permanent hair elimination, so hair removal will end forever never grow again, hope Miss Tram answers me, I feel Thanks!
Miss Tram salutes you, in fact permanent hair removal is just a phrase referring to the ability to eradicate hair follicles with lasting results longer than methods such as shaving, plucking or waxing, ... rather than wearing The implication is that it never grows back as many people think it is. Although it affects the face tCosmetically beautiful but extremely important hair for the human body, they perform the secretion function and help the skin breathe. If the hair is completely removed, it will affect the function of the skin.
Depending on the location of each person and the technology used after conducting laser hair removal procedure and cMr. OPT - SHR technology It takes 4-6 months for a follicle to begin to grow back, but do not worry as the hair grows thin and thin. For those who are not too hard and thick hair, after the hair removal is complete will prevent the phenomenon of hair regrowth, or if regrowth, the hair will also be pale and soft as fluff only!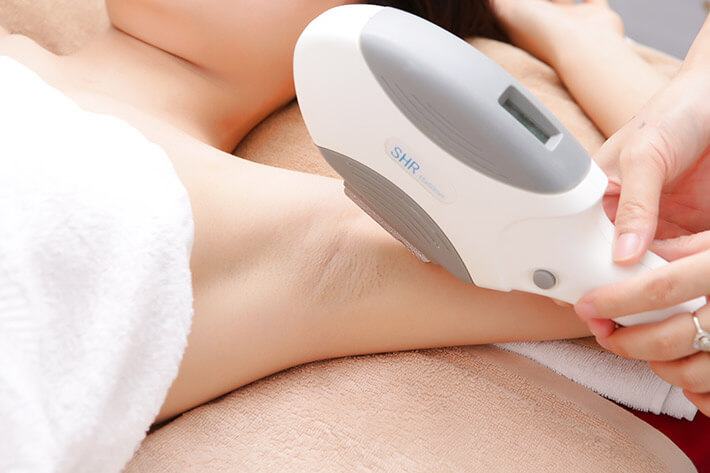 Question 7: Hello Center, I used to remove armpit hair elsewhere, but only 10 times after that, there was an extra gel removal charge. I consulted that Miss Tram has a 3-year package, I don't know if there is a limit on the number of abortions or surcharges as the previous one I bought, I want to let my sister go with you because I was introduced to someone I know.
Miss Tram salutes you, all regions in the Center now have a 3-year warranty package with unlimited number of radicals or surcharges! At each visit, the specialist will examine the growth of hair follicles and make an appointment for the next removal, which can initially range from 10-15 days, after which when the hair grows thin, it may be from 1-3 May I thoroughly cancel 1 time!
Question 8: Hi Center, I read the information that there are some cases of ingrown hairs so I am also very worried. I wonder if hair removal has encountered such a case, hope the center can help you!
Miss Tram hello you, as you know, our skin has many follicle units located under the skin. Under normal physiology, hairs will grow straight up on the skin's surface through pores. When you see pores on the skin where hairs do not grow straight out, but roll inward, causing the skin to swell, accompanied by inflammation and pain, then you are having ingrown hairs. .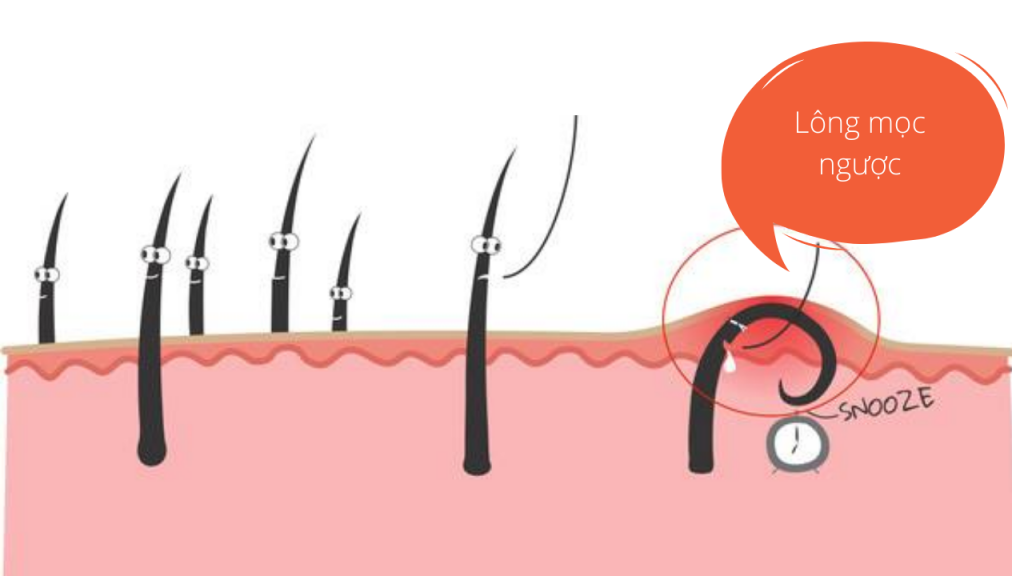 Ingrown hair often occurs when some individuals have a habit of pulling or shaving, in addition, hair removal in poorly reputed facilities with poor quality hair removal technology is also the leading cause of this condition. With Diode laser hair removal technologyand OPT - SHR technology, you can be completely assured because hair follicles are not only cleaned at the root but also shrink pores from which the skin is clean and smooth. and healthy.